Day 277 Lake Louise
Banana pancakes were a great way to start our day before driving back up the mountain to Lake Louise to see the Chateau. We had to stop and wait for a road block to open so for 10 minutes the boys got to jump in some snow and play with their new snow disks for tobogganing.  When we arrived at Lake Louise there were only about 3 cars and 1 bus in the car park; I'm sure in summer it would be absolutely crazy and the overflow car park would be full too.  On our walk to the lake we had to put an end to snowball making as the boys realised they could pick up extra large chunks of snow that were ready made snowballs and throw them at each other. Made for a very slow walk however and when Patrick copped a large amount of snow in the face, no one was particularly happy!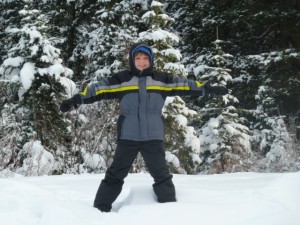 In fact, considering we were in one of the most beautiful places possible, it was difficult to enjoy it with two (well mostly one) whinging child.  It was too cold, too far, legs hurt, boring and so one.  Aaah!  I left the boys for some solitude walking along the trail that leads to the end of Lake Louise.  It was simply stunning and wonderful to enjoy in peace and quiet!  When we met up again the attitude of one child had changed a little and walking back towards the chateau was better since he could see when he was getting closer to the end of the trail.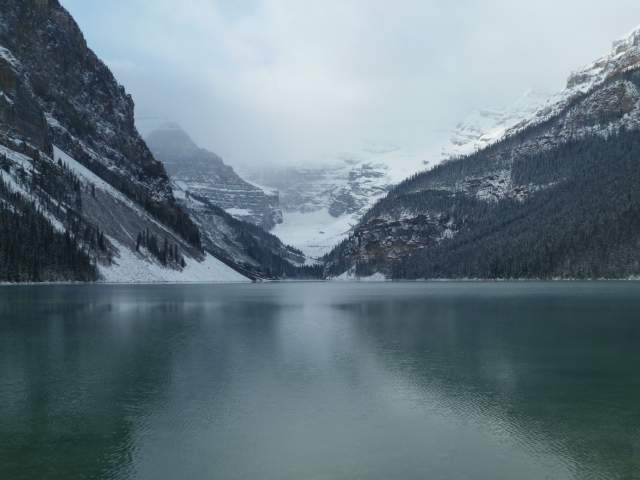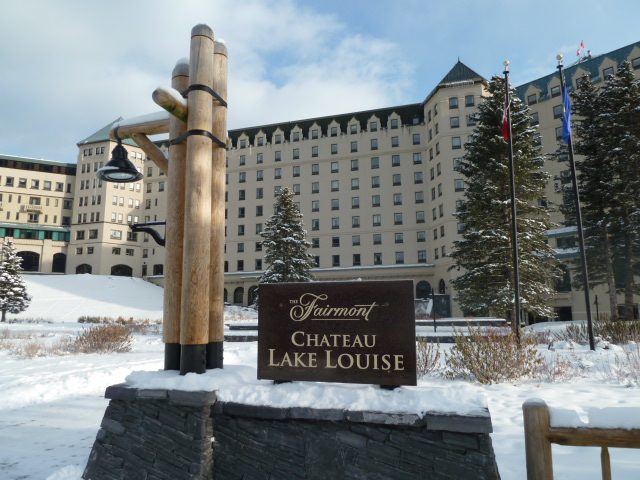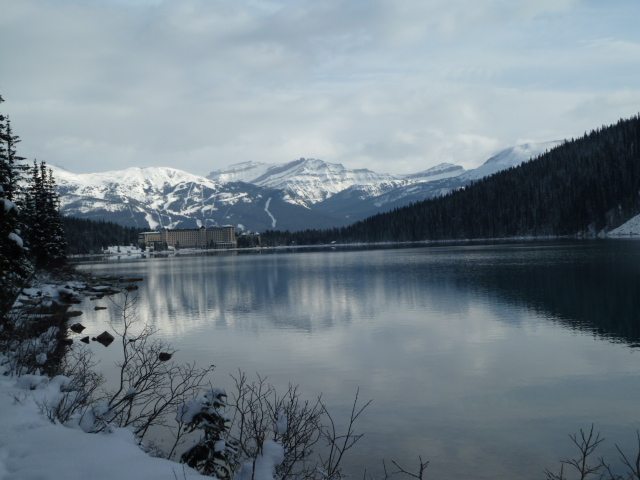 We headed into the chateau to get warm and have a look around.  Somehow, between shaking the snow of his brand new mittens and walking less than 20 feet into the chateau, Harris managed to lose his new mittens.  Even though we asked around; searched the area and lodged a lost and found report, we did not find the mysterious disappearing mittens (and still have not heard of them).  I was annoyed but more baffled how mittens can disappear into thin air so quickly. 
It was time to head back to the hostel for some warming lunch and a rest. I cooked a packet of Velveeta macaroni and cheese; a very yellow mac-n-cheese.  Patrick took one smell of it and tears welled up in his eyes; he really did not want to eat it!  He said he didn't want to eat any mac-n-cheese unless it was mine – thanks buddy!  We ate the yellow pasta and then set the boys up in the room for a rest.  Steve had a sleep and I researched some Florida stuff. 
In the afternoon we got outside near the hostel and had a play in the snow with the discs again before Steve's workmate Nicole, and her 3 friends, dropped in for a hot chocolate.  To save some money we made our own hot chocolate in the basement kitchen and then took it to the upstairs lounge room.  We had a lovely time chatting away and eating some of our Halloween candy. 
By the time they left it was getting too dark and too cold to play outside again so we stayed in and chose to eat in the adjoining cafe restaurant for dinner. They had a very reasonably priced and delicious looking menu.  We got a fabulous table next to the fireplace and the boys both had bison burgers with fries for $12 each; Steve and I shared a chili and poutine (fries with gravy and cheese curds).  We all headed off to bed for an early night as we were all exhausted every though we weren't overly busy today.  We had a big drive to Jasper ahead of us tomorrow so we needed to sleep well and get up early.
Leave a comment