Day 278 Jasper, Canada
We had thought about driving to Jasper and back to Lake Louise in one day and spend three nights in the Lake Louise Hostel but since it was going to be a huge day of driving to get to Jasper and back I asked about changing our booking so that we could stay in Jasper overnight. Lucky for me the guy working at the hostel was Aussie and friendly because he said we should have let reception know by 5pm if we wanted to cancel; it was now 5.30 pm and he let me do the cancel and rebooking anyway. This was going to make our life a lot easier and more enjoyable than trying to drive it all in one day. It meant packing up and leaving our cosy room in this gorgeous massive log cabin hostel but 2 nights was probably enough in Lake Louise.
We set off along the Icefields Parkway about 10 am and weren't sure exactly how long it was going to take us to get to Jasper since there were some amazing sights to stop and see along the way. This road is one of the most beautiful drives in the world, not just according to me but according to National Geographic and many other notable sources. It was truly spectacular. Check out our photos, even though they don't really do it justice.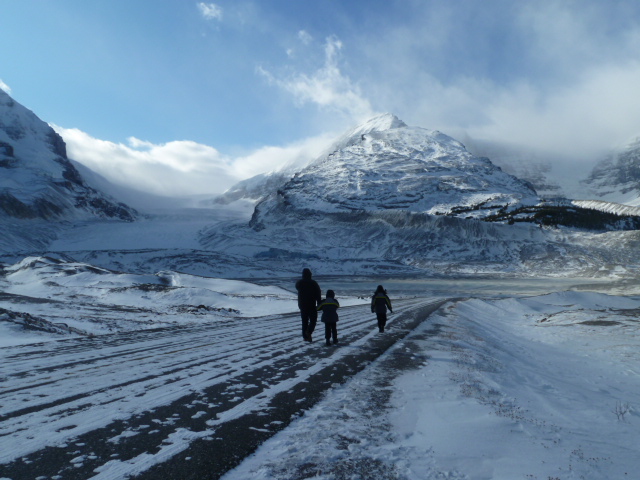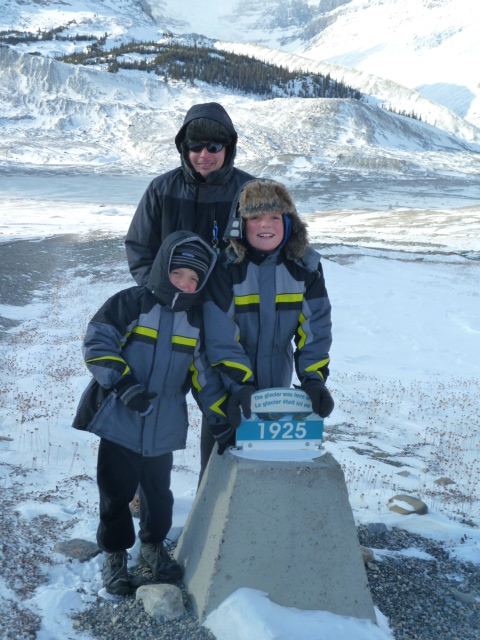 Our favourite spots were the Columbia Icefield (glacier) and two waterfalls Sunwapta Falls and Athabasca Falls. When we stopped to see the glacier the wind was blowing directly off it and giving the wind chill an almighty chill to it – we have no idea how cold it was but the boys did not have their faces adequately covered and were not impressed with the bitter cold on them. Steve and I had scarves and sunglasses to protect us but still it wasn't pleasant walking towards the glacier. Walking back to the car was certainly an improvement with the wind on our backs.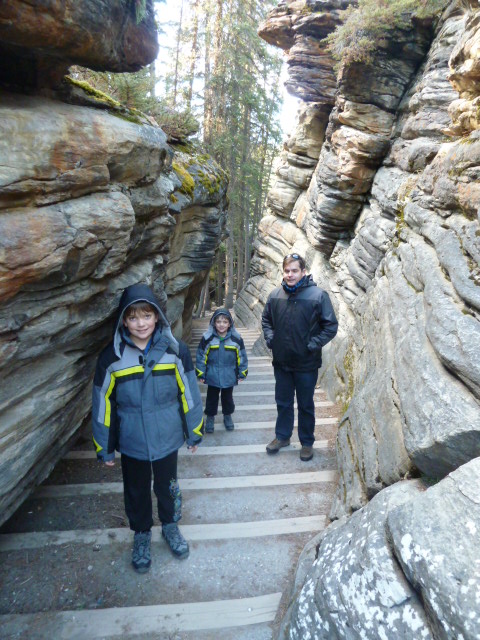 The waterfalls were all ours; only as we were leaving both of them did we see other people. In summer the car parks would be overflowing and the trails teaming with tourists but not in November! As beautiful as the falls are, I can't help but think of how dangerous they are as well and were keen to keep the boys close. Athabasca Falls actually has a sign warning people to stay behind the barriers and talks about how people have died there and very quickly too once they hit that freezing cold water!
The other amazing thing about our drive to Jasper was the wildlife spotting. The guidebook had mentioned how Jasper is a premier place for spotting critters so our eyes were pealed the whole time as we drove or hiked. Finally we saw another car coming towards us who flashed their headlights – whoopee there must be something ahead of us. Sure enough there was one large mountain goat standing on the opposite side of the road. He was in no hurry to move so when we saw a car coming the other way we flashed our lights to warn them of the big fella just standing there waiting to be hit.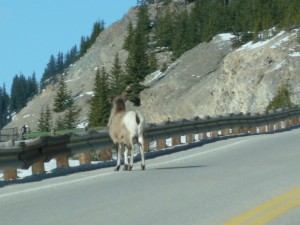 Best of all and even just writing about it makes me get excited all over again. Another car flashed their lights and we slowed down not knowing what was ahead. Suddenly up in front of us we spotted the pack … 5 large wolves, one black and four blonde/brown. We pulled over to get a better look at them and take photos and they nervously stood and looked at us. What a sight and we had more critter spotting ahead.
We arrived into the wondrous little place of Jasper; we were so glad we had made the decision to spend the night. By the time we arrived here we were all starving as we had snacked on apple sauce and pretzels along the drive and nothing much else. First priority was food so we grabbed some much cheaper groceries at Robinson's supermarket; completed a loop of the town and then headed out of town to the hostel. The hostel is situated about 5 kms out of town near the gondola (which wasn't operating). We checked into our small private room with shared bathroom, and the boys didn't waste any time checking out what games and books were available for the guests. There was a pretty nice shared kitchen and open plan dining and lounge area so I could cook our spaghetti dinner whilst keeping an eye on the kids. We had an early dinner at about 5.30 pm because we really hadn't eaten a proper lunch. As we had dinner so early I was keen to drive back into Jasper so we could have walk around.
All rugged up we set off and hoped to see some more critters. We didn't have to wait long as half way between the hostel and town we saw a car pulled over with their blinker on so we approached cautiously in the dark to see what they were looking out. Out the passenger side of the car was herd of elk walking along the side of the road! There were about 20 of them just moseying along. I couldn't get a decent photo of them unfortunately. They crossed over the major highway and only a few minutes after the last one crossed about 3 semi-trailers came speeding down the road. I am ever so glad that the elk made it across the road because we would have had front row seats to see an absolute carnage if they had been hit.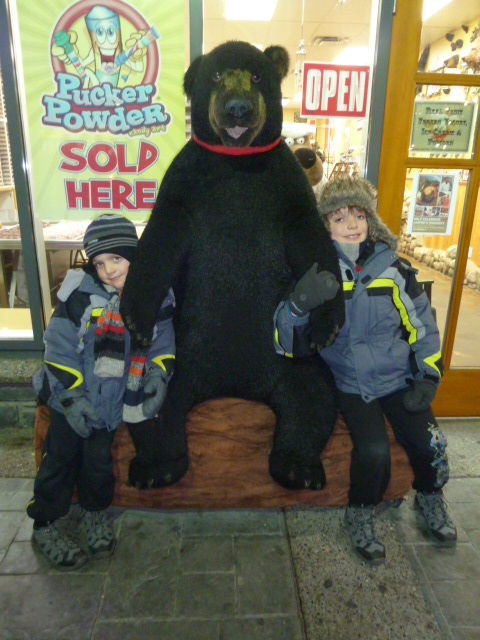 In Jasper we parked the car in Patricia Street and got out to walk a loop around town. There were some shops and food places open but some restaurants weren't opening until December. Its tricky keeping up with what opens in summer, what closes for the season and then what opens for a different season!We decided against spending a fortune on cone ice-cream and went for the supermarket option where I bought a large tub for $4. With ice cream in tow we drove back to the hostel, on the lookout for animals. We took the turnoff for the hostel and not far down the road we could see some eyes shining back at us – a coyote was walking along the side of the road right near us. We pulled over and had a look but again it was too difficult to get a photo.
Back at the hostel we broke out the ice-cream and chatted with the many people in the lounge area. It was a much friendly hostel than Lake Louise. We chatted til 10.30pm and went to bed; the boys had gone to bed earlier and Patrick was sound asleep already; Harris still stirring a little. We knew we'd have a bigger drive tomorrow since we were headed to Canmore on the other side of Lake Louise. What an amazing day.
Leave a comment