Day 279 Jasper to Canmore
I was woken early by the sound of people talking in the adjoining dorm room so I got up and ate breakfast to start the day and started the process of showering, packing and moving out again.  Today we were driving to Canmore to set ourselves up for a week in a condominium.  Hooray a home for a week with a kitchen, laundry, two bedrooms, lounge and gas fire and use of a gym and hot tub.  I am looking forward to cooking and relaxing in our own pad for a week and getting ourselves organised for a next month of adventure in Florida.  In Canmore we hope to fit in some skiing, snow play, another ice hockey game and hanging out, plus catch up on school work for the boys. 
As we were up and out the door early we had a good amount of time to enjoy our drive back but first of all Steve had to buy a new pair of sunglasses.   I don't know if I have previously mentioned Steve's problem with sunglasses this year but he lost the first pair; broke the second pair and the third pair was bought just 3 days ago when we'd stopped in Calgary for some shopping.  When we went to get those out of his backpack this morning, the 3rd pair was snapped totally in half!  Aaah. Before we could drive he really needed a new pair since we were going to be driving into the sun all day.  Another $20 later and he had a new pair and we could start our journey.
More critter spotting along the way and again when we got the 50km zone where it warns you to look out for sheep, we were lucky to come across two of them standing right in the middle of the road again. I'm sure one of them was posing for the other car! 
Just after the sheep was the Columbia Icefields again and as we approached were ever so glad that we had gotten out yesterday to see it.  The wind was more fierce today and whipping snow across the sky and road.  It wasn't snowing but almost looked like it since the wind was picking up so much snow, plus you couldn't see the huge glacier as clearly as yesterday.
We drove on down the road and made a quick stop at the Lake Louise hostel to find the very small item that Harris lost.  The ironic thing is Harris bought this small coin shaped pendant with a Indian drawing of a beaver on one side and the word 'Focus' on the other and so far it has done very little to assist him in the endeavour of becoming more 'focused'.  Luckily no one had rented that room so the pendant thing was exactly where he had left it.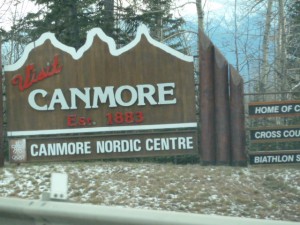 Back in the car and we were off to Canmore.  We spoke with the manageress on the way and got the codes to get in the building and condominium we were renting but we couldn't check-in until 3pm.  This was an opportunity then to drive around the town and look around and then go to the Starbucks directly opposite the building and sit and relax after our long drive.
At 3pm we excitedly emptied the car of everything and went up to our condo.  We weren't disappointed; it was gorgeous.  Two bedrooms, two bathrooms, two tvs and one playstation!  What more could you ask for?  A great kitchen; washer and drier; gas fireplace and two dvd players were also pretty great!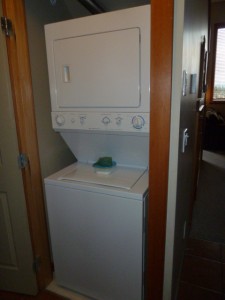 The view from the condo was gorgeous.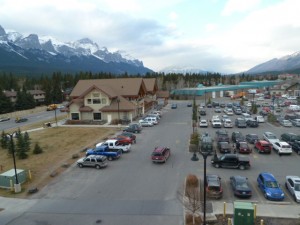 I am posting this blog even though it isn't finished. The internet connection is very dodgy and driving me mad!
No Comments
No comments yet.
Sorry, the comment form is closed at this time.