Day 46/47 – Kampot, Cambodia (Photos are here!)
We once again braved the roads to travel from Sihanoukville to Kampot. We had a car and driver, which is always the safer option if possible compared to a tuk-tuk or motorbike; and certainly our preferred method with 2 children.  We were picked up in a beat up Toyota Camry and were told that for $15 he would drive us to 'Les Manguiers' for our overnight accommodation.
When we arrived in Kampot we would have liked to have a tour of the town, as we were told he would do, but as per usual this was not to be the case and we were taken straight to our out of town retreat.  We chose 'Les Manguiers' on the recommendation of our travelling friends the Burns Family and we were not disappointed. A quaint little set of riverside bungalows surrounded by trees with a communal dining area and a jetty for launching kayaks was just what we needed after 3 days of Sihanoukville's disappointing and dirty beaches.
We shared the oasis with a Phnom Penh French School, a USA School Group from Nobles School in Boston, a Swiss couple on their honeymoon and a few other international travellers.  We arrived in time for lunch. They offer a set menu to keep their prices low so for $3 child and $5 adult we enjoyed rice and two fantastic main courses of vegetables and prawns and stuffed tomatoes, followed by chocolate cake and sauce. All washed down with a bottle of wine for Steve and I.
The boys wasted no time exploring the large yard and were soon busy with swings and hammocks and meeting the teenagers.  We hired a kayak for a small trip around the river and enjoyed a swim whilst meeting the USA contingent.  We were invited to join the school groups for dinner at a reduced price for a banquet, which of course we accepted.  That evening we all came together to share in some games to welcome a group of Cambodian School students and then chose tables for our meal.  The challenge to the group was to have as many different nationalities as possible sitting at the one table.  We were joined by the Swiss couple, a Danish/Swedish couple, a Cambodian teacher and two French teachers.
Following dinner each of the school groups put on a performance which was certainly entertaining.  The Cambodian students did a skit about some parents asking the village chief for money so they could marry off their daughter!  The French students sang a song that was obviously very popular in French and the USA students finished with the song 'We are the World'. Everyone was welcome to stay on for dancing with the students and teachers so Harris and I did. Patrick was well and truly ready for bed.
I received many comments from the teachers about how well Harris was interacting with the teenagers and how confident he was on the dance floor. Give him another 10 years and I am sure he and some of the teenage girls would have been very interactive! We had a fantastic evening and were sad to say goodbye to our new friends the next morning at breakfast.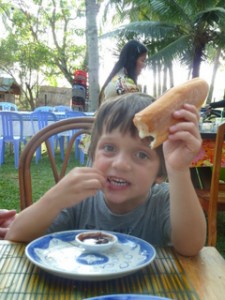 We enjoyed scrambled egg, fresh baguettes and a range of jams for breakfast for $3 each.  We met up with the Swiss couple again and shared some photos of our lives and enjoyed seeing where they live in Switzerland which overlooks Mount Blanc.  They have invited us to visit them if we go to Switzerland. This would be a fantastic opportunity to keep in contact with them and so hope to see Solvan and Valentine again.
It is a shame we only had one night planned in Kampot. I would certainly encourage anyone to spend more time here and less in Sikanoukville!
Leave a comment