Day 6 – It isn't every day that you get sat on by an elephant!
Headed to Taman Safari in Cisarua, Bogor close to the Embassy cottage in Puncak.  The turn-off for the park is marked by a large wooden sculpture of African animals and the street leading to the park is lined with people selling bunches of carrots. We bought a bunch since we had heard a few snippets about what we were in for … seeing is believing!  We bought tickets and entered the park. You stay in your car as your drive around the safari area. Within minutes we were surrounded by deer and zebra coming right up to the car sticking their heads into the windows for carrots!  We thought this was amazing until we fed the hippopotamus!  The carrot missed his mouth a couple of times before it finally went in.  There was a steady stream of cars and buses as we drove around the safari.
We entered a number of zones that were separated by high double gates and warning signs indicating you needed to keep your windows up.
 Amazingly some idiots actually disregarded this advice and thought nothing of taking photos of lions and tigers with their windows down and arms hanging out!  We took photos hoping to catch something to sell to the tv show 'When Animals Attack'!  
The zoo and amusement park are quite rundown and certainly the animal enclosures would not be to Australian standards but the whole day was full of surprises and very entertaining. Harris and I paid the pricely sum of RP 10,000 (AUS $1.50) each to have our photos taken with an orangutan, a grumpy lion cub and a gorgeous Sumatran Tiger cub.  We could actually use our own camera on these occasions which meant we could take as many photos as we liked – not just one professional photo for $50 and too bad if your eyes were closed!
We walked around the amusement park area before buying a few snacks and heading to the elephant show.  Whilst the show was in Indonesian with some token English, you could certainly get the gist of what it was about.  The show got particularly interesting when the hostess chose Steve out of the crowd.  He had to lie down on the floor whilst an elephant walked over the top of him and then sat on his feet!  Watch the video on that one!  Steve got two stickers in an envelope for his assistance.
 Highlights of the park included a cranky chimpanzee that actually picked up a small log and indicated that it was going to throw it at us. About 2 hours later a park lady warned us to stay away from the 'dangerous monkey' because it was known to throw rocks at people.  The reptiles were well presented; the primate area was great – one actually jumped over the fence and came within 1 metre of us; then we paid RP 5000 for a bucket of carrots to feed elephants. The animal attendants then let all of us get photos taken with the elephants. Wanted to buy a postcard but could not find one – plenty of toy animals and stickers.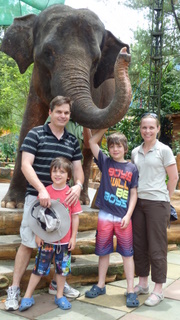 By now the adults were getting hungry so we left the park and headed for Cimory Resto – a restaurant owned by a Dutch dairy company. They offer a menu of western meals of sausages and vegies and also asian style food. Their specialities, of course, are their dairy products so we all had great milkshakes and bought some yogurt and flavoured milk in the adjoining shop.
Leave a comment