Day 97 Taipei, Taiwan
The alarm woke Steve and I at 5.30 am so we could get our bags packed, eat some cereal and wake children.  Goodbye to our cool little flat in HK and we stepped out onto the street to hail a taxi.  The streets were very quiet at this time but still the trams, buses and taxis were running.  We caught the 2nd taxi we saw and headed to HK Train Station to catch the Airport Express train to HK airport. 
WOW am I impressed. We didn't use the train when we arrived thinking we'd save some money and catch the bus, as well as get a free tour along the way.  Well, in reverse when you want to get to the airport without a hitch and with plenty of time to relax then the Airport Express is the only way to travel. We got out of the taxi; grabbed a luggage trolley; walked 20 metres; bought tickets (4 for $250 HK); walked through the ticket gate and there was airport check-in! Right there in front of us.  So at 6.30 am we could already check our backpacks all the way through to Taipei and we didn't have to worry about that task at the airport.  Here I was thinking we'd have to lug our bags onto the train with us and then check them in. What a fabulous system. So at 6.36 am we were sitting on train heading to the airport.  We bought the boys some breakfast; got a refund on our Octopus cards; exchanged our HK$ for Taiwan New Dollars and went through immigration; then we waited in comfort.
The China Airlines flight went without a hitch and we even had a meal which I wasn't expecting.  It was seafood and noodles with a mango jelly which really was delicious.  The airhostesses gave the boys a packet of China Airlines playing cards which they were pretty impressed with.  Getting through customs and immigration in Taipei was a breeze since Australians are visa-exempt for 30 days.  Grabbed a free Taipei map and we found the bus ticket sellers.  I read up in the Lonely Planet just the night before about the different services and I knew which station we needed to go to.  But again I was surprised when they said they could deliver us all the way to the end of our street with just a quick changeover of bus.  Fantastic.  The bus drivers were lovely and the local people were more than willing to step in and help when there were a couple of minor communication problems.  I am loving Taiwan and so far I have been in the country 1 hour!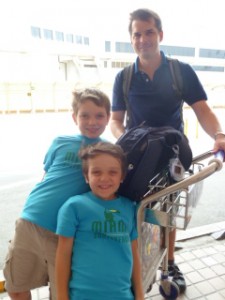 We found our hotel easily – Han She Business Hotel. I found it on my favourite booking site www.booking.com and then I discovered it was also recommended in the Lonely Planet.  Check in went smoothly and then we hit the local streets to fill our bellies. Just 10 metres from the building's entrance on the corner is Olympia Bakery; like no other we have seen in Asia so far. Not only does it have baked goods, it has pick your own dim sum – better than the stuff we paid a fortune for in HK! We will definitely return here in the next week.  For $10 Australian we walked away with a comprehensive selection of delicacies!
We continued to roam the streets because we were on a mission to find another LP favourite of Taipei – 'Modern Toilet', a quirky restaurant where you sit on toilet seats and eat your food out of ceramic (look alike) urinals and toilets. Hmmm. You might find that bizarre, gross or just ridiculous; and really it is but we ordered one coffee and chocolate icecream and shaved ice and this is what we got for NTD $100 (about $3.30 Australian!!).
It really did take the four of us to eat it and even then we couldn't finish it. After continuing to look around the collection of cool shops in our area, we returned for a rest in our room to recover from our very early wake-up and travel day. That evening we headed out to find dinner and the infamous Snake Alley/Huaxi Street Night Market near Longshan Temple.
The night market was certainly a non-event and we walked through very quickly and gazed at a fee snakes and a few ladies of the night!  The Longshan Temple near the market was fantastic to see at night. I think it is actually the first temple we have seen at night and it was gorgeous.  The carvings and 'decoration' were amazing. Will add some photos asap. I could have sat and watched the people for ages if it wasn't for the whinging tired hungry children beside me declaring "I thought you said that temple in Vietnam was going to be our last?" … "Yes, our last in Vietnam!"
We found some dinner close by to our hotel at a little local restuarant with great service, quick food and good too.  The young host offered us two free Cokes for the children but I declined politely and said our children don't drink Coke (and certainly not at 8pm at night!).  Not long later he returned with their 'best soup' for free which we accepted. The rice with turkey, boiled vegetables and pork and mushroom soup were a great feed for NTD $110 (about $3.50 Australian!). Cheap dinner – we will be back!
Leave a comment