Day 99 National Taiwan Science Education Centre
Today we headed off to the Science Centre at the request of the boys. We easily found our way from the hotel to Ximen train station to catch a train to Jiantan station and then caught the Red 30 bus to the centre. When we arrived we bought tickets for 'Trick Art' – a special exhibition that was running. It was quite expensive at NT$ 700 for four people whilst the general admission price for the centre was $100 for adults. I thought the boys would find the exhibition interesting so off we trotted and joined the queue. First indicator that this wasn't going to be a good idea!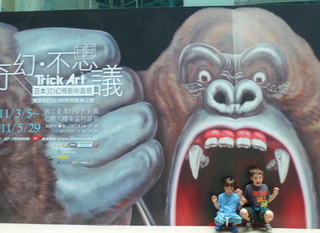 When we got into the exhibition I immediately felt like turning around. You could barely see the 'art' for all the people and this was on a Friday morning. Every young person in Taipei was there with their cameras and the lines for the better artworks were huge. Everyone seemed to want to have their photo taken to appear as if they were being eaten by a shark! Whilst the artwork was entertaining, we also found the people watching just as amusing!
We didn't stay in the exhibition for long, choosing buy general admission tickets to see the regular four floors of science displays.
The four floors offer a wide range of displays and hands-on stuff for kids and there was a good amount of information in English. The Science Circus was a lot of fun and also the physics floor. We spent a good number of hours here before dragging them away to find lunch from a bakery at the QSquare Mall. We went looking for Dooodolls, little characters that the boys came across in Malaysia.
The website listed them as being in Taiwan but we had no luck finding them in any of the stores we had been to. The search was abandoned for the day and we headed back to Ximen on the quest for dinner – back for our regular Taiwanese special! 
No comments yet.
Leave a comment