Days 105-106 Shanghai, China
We had no great expectations or plans of what we would do in Shanghai.  The first morning we set off to find breakfast.  We ended up catching a ferry to the other side of Shanghai, walked along and came across a 'City Shop' supermarket. We bought muffins, juice and yogurt for breakfast and sat outside and enjoyed a very quiet breakfast.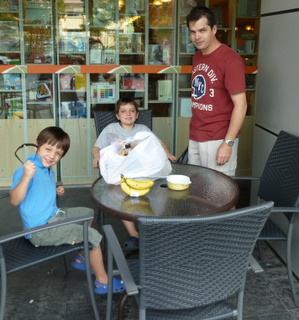 We found it surprising that we could be in Shanghai and yet it be so peaceful.  It was so deserted and we felt like we had the place nearly to ourselves.  This didn't continue for long as we headed off in the direction of all the famous buildings etc.
We finally found our way to the Shanghai Natural Wild Insect-Kingdom after a few wrong turns.  It was mentioned in the LP as an attraction for children so we thought we would check it out.

We bought tickets and headed in past the very sad looking seal lion in a small dingy pool.  We had a few minutes of peace feeding the carp before 5 bus loads of preschool aged children paraded past us on a school excursion.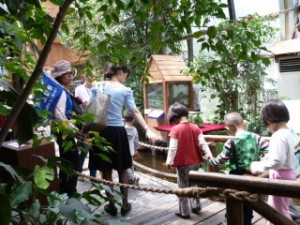 Sad to say that Chinese tours even for children involve a lady at the front with a mega phone and a flag and everyone follows. They paraded past us in what seemed a never ending line.  Finally they had moved on and we slowly made our way from the carp to the monkeys.  Those kids must have paraded through that place so fast because we didn't meet up with them again and didn't even hear them in the distance!
The Insect Kingdom as many more creatures than insects, including monkeys, farm animals, turtles, snakes, frogs etc. We were there at feeding time and got to see the salamanders and water beetles attacking red worm-like things in a feeding frenzy.  It really was the highlight!  I am glad water beetles aren't any larger because they are ferocious!
After our insect adventure we headed back out into the streets of Shanghai.  We headed along the river trying to find our way to the big buildings.  We got a little off track before we spotted the crowds and headed in that direction.  Shanghai has some beautiful tree lined streets and a spectacular skyline.  When the bus loads of Chinese tourists disappear from view, you could even forget that you are in China.  It feels like any large modern city in the world and the main street areas are very neat and tidy.
In our wandering we came across a number of large malls and found some airconditioning to escape the heat; a bookstore for Harris and Aijsen Ramen Japanese restaurant for a cheap lunch. This is my favourite crab meat salad with a side of tofu for about $5 Australian!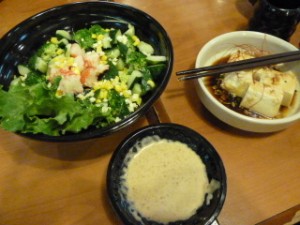 We got a train back to our side of Shanghai  and set out to find dinner and search for the Shanghai Centre to book our Shanghai Acrobat tickets.  First day in Shanghai over. 
Next day in Shanghai … I went for an early morning jog along 'The Bund'.  It was very quiet along the promenade apart from a few other people exercising, some early tourists and a good number of old guys flying kites; a sight I would never have experienced if I hadn't wanted to get some exercise!  I was just as much an attraction for the Chinese people as I jogged along red faced ; particularly when I would pick a set of stairs to run up and down; they found this quite bemusing.  I did get a thumbs up from a group of Chinese joggers!
We ate breakfast and finally worked out an itinerary for the day. Steve found that we were close to Yu Garden, a famous garden in an old district.  We walked there easily, not knowing exactly what we would find. What we found were tonnes of tourists in a huge bizarre shopping district.  In amongst the bizarre we discovered the garden entrance, which was actually the back door and the quiet way in!   The garden was a peaceful place, even with many tourists around.  The boys enjoyed exploring the garden and ponds and spotting all the dragons and other sculptures on the roofs and walls.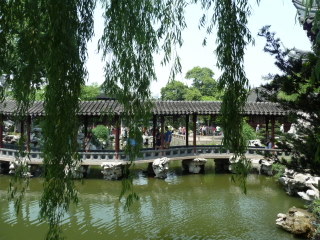 Our tummies were grumbling so we headed back into the crazy bizaare area for food.  The LP listed a dumpling restaurant and mentioned the queue would be long … yep, it was. We joined the queue because 16 dumplings for 20 Yuan was too good to miss.  We really didn't have to wait long because they churn those dumplings out all day. There was nowhere to sit so we ate dumplings beside the drooling queue of people.  I can only guess the number of photos Harris and Patrick would have featured in since they were using chopsticks to eat their dumplings and the crowd of people had nothing else to do but watch the foreign family eat dumplings!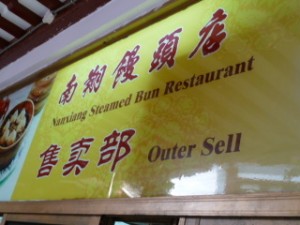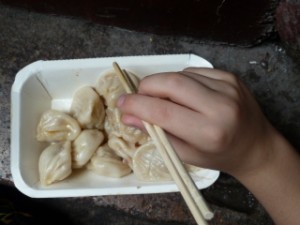 After we had stood to eat dumplings we wanted to find somewhere to sit and enjoy a coffee. Starbucks was full so we got takeaway coffee and found a McDonalds for the boys to have a sundae.  It was really busy there too but we managed to get seats and sat and cooled off. The boys also did their homework there because the table and chairs was good for them to sit at and write.  Steve and the boys headed back to the room for more airconditioning and a rest before our acrobat show whilst I continued to window shop.
We headed out in the afternoon to catch a train over to the Shanghai Centre and found some dinner along the way, arriving early for our show.  We had seen some acrobats perform in Hong Kong so we were pretty sure we were in for a great show.  The crowds of people trickled into the theatre and whilst we had cheaper seats we really had no issues with seeing the stage.  There were very few children in the audience - I think I counted about 10 in all.  It is difficult to sum up the show – Harris gives it 5 out of 5! The stunts and acts were gob smacking.  Patrick loved the man spinning the china plates; he had about 16 plates spinning at one time and it was quite the comedy act. Patrick has a great chuckle and he chuckled so much that the people around us were laughing more at him than the plate spinner.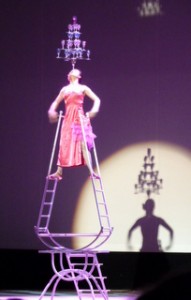 The acrobats did things with their bodies that are just so unnatural and the women with the glasses on her head also managed to play 'Jingle Bells' on the clarinet at the same time!  I would highly recommend taking children to see the show even though it means a late night; particularly if you use public transport like we did.
After the show we were heading down the get some groceries in the basement store when Harris discovered why there are warning about escalators and Croc-like shoes.  We had seen signs warning about such shoes becoming stuck and causing injuries to the wearer.  Here is what Harris's shoe (on the right) looked like after it got stuck!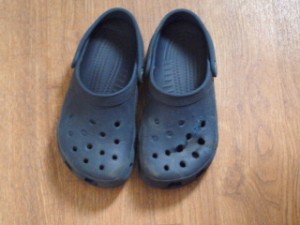 Lucky for him he only suffered a little bruising to his foot and his ego.  Next time we tell him to 'Stand Firm' on the escalator, as the signs say, he might just do so!  I continued on to basement grocery store and returned with an 8 yuan bag of frozen peas and corn as a good substitute for an ice pack for his foot. Unfortunately for Harris it was an extremely busy Friday night in Shanghai and we couldn't get a taxi anywhere so he had to hobble all the way to the train station and then to the hostel. Off to bed because we had to get up early the next day to fly to Xian. Shanghai goodbye!
Leave a comment