Days 119-125, London (Part 1)
Apologies to all our family, friends and followers for taking so long to update our whereabouts. We have survived our first 2 weeks in the UK with a few ups and downs. We are just starting to get our UK/Europe groove now.   We didn't realise just how tricky it would be to try and organise ourselves for this part of our adventure in an English speaking country no less!  Although I have to say that when you walk down the streets of Croydon, London you still have to tune your ears to decipher the English through the thick accents!
Here is a little list of the ups and downs of our first week in Croydon, London.
 Ups: 
The fantastic apartment in East Croydon that we rented for the week.  It was central to everything, public transport, camping stores, bookstores, clothing stores, library, groceries and parks. You name it East Croydon had it just 10 minutes walk away from our apartment.
The park called 'Park Hill' right across the road where the boys rode their new scooters from 'Argos'.
Drinking Australian wine, bought at the local grocery store and watching English speaking television,whilst the dishwasher and washer/dryer merrily whirred away. 
Our first full day in England that was reported to be the warmest day of the year!  The weather then returned to normal – see 'Downs'!
Cheap groceries. Who said the UK was expensive. I bought a marked down loaf of bread for15 p from Waitrose!
The wonderful attractions in London just a quick train ride away that we squeezed into our busy schedule … Hyde Park, Buckingham Palace, Princess Diana's Playground, London Eye, Hamley's Toy Store, Tower of London, The London Dungeon, SEA Life Aquarium, London Bridge, The British Museum and more things we saw out the window of a double decker bus or whilst walking the streets.
 Downs: 
London weather – we knew never to go without raincoats, umbrellas, coats etc. I didn't count on it being quite so cold but after 4 months of pleasantly warm or extremely hot weather in Asia, I had to buy a warmer jacket and scarf!
Useless car hire company people.  Do you know how difficult it is to get a straight answer from them.  I spoke to easily 10 different people one morning trying to work out our car hire dilemna and even spoke to someone in Bulgaria! In the end, we resorted to the internet again.
Train employees who give you different answers to the same question … I still truly don't know what is the cheapest method of ticketing and what the rules are for travelling with children.
Here are some photos of the first week which show the fun day event that was held in downtown Croydon and the local area: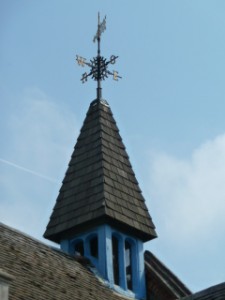 See our first day of sightseeing in London (Part 2 shows more photos).  We also met up with Steve's old college mate Tim (the tall man). Tim lived in England for 10 years but is now back in Australia with his family and by chance he was in the UK for a business trip.
Leave a comment