Days 151-153 – Road trip Sweden (Falkenberg)
Following our lovely weekend in Hono Island, we packed up and moved camp down the west coast of Sweden to Falkenberg.  We chose this spot because it wasn't a long drive from Gotenburg and guide book indicated that the camp facilities were good.  We were pretty happy with our choice of location with only a 5 minute walk to the beach and equal distance to the local ICA supermarket; also close to Ullared (more about that soon).  The camp kitchen belonged to us again since most people were cooking on their small barbeques or in their motorhomes. 
Only thing to make it better would have been separate bathrooms for men and women – I really didn't like having to put the toilet seat down every time I went to the loo!  Plus (take note) when you have card operated showers, be sure to check you have enough credit on the card to run the shower before undressing!  Also check to ensure you have a towel with you.  When you walk all the way to the camp service building, undress, shower and then discover you don't have a towel; you tend to curse the whole camping to save money idea. Our first afternoon in Falkenberg was spent checking out the beach and familiarising ourselves with the campgrounds. 
Next morning we got off to a late start organising things over the internet.  Finally we drove to Ullared, 35 kms away. What is Ullared you ask?  Only the most visited destination in Sweden … a shopping centre; yep, a large store with bargains galore and people galore.  We arrived about 11am and the place was already busy.  Apparently at Christmas time there can be a crowd of people lined up out the store waiting to get in!  We looked, we shopped a little and then had a picnic lunch outside and watched the people go past with their trolley loads of yellow and blue bags. If we lived in Sweden and I had a house to stock I would probably have left with a few yellow and blue bags myself because the prices were great by Swedish standards and actually many items were well priced when converted into any currency.
After Ullared we dropped into the local Falkenberg library to see if we could use their internet and fax.  It was a really well set up library and even had a small area of English books for Harris to read whilst Steve and I hit the computers to catch up on bookings etc.  We had forms to print and complete and to fax off to organise our travel in Spain for September.  We thought we had done our jobs successfully and patted ourselves on the back.
When we returned to camp, the boys hit the beach again for a session of sand castle making, swimming and Frisbee throwing, thanks to our purchases at Ullared; and played with their new found friend Abel.  Abel is a 7 year old Ethiopian/Swedish boy who goes to an international school and speaks excellent English. The kids had a great time hanging out with each other and conversing in English.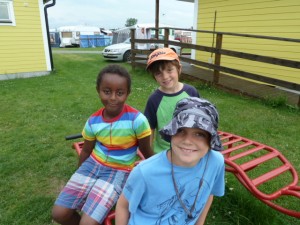 I spent my time tapping away at the computer working on this website and emailing. Later whilst sitting in the playground watching the kids play, 2 girls were talking to each other in English.  As it turned out they were from Australia.  I watched to see which camp they headed back to so I could so hello to their parents later and saw they were in a cabin just 50 metres from our tent.
After we had dinner I headed over to say hello to the Aussies.  I was pleasantly surprised to discover that this was the same Australian family that we met at Skansen in Stockholm – how amazing!  We had a great chat with Linda and Scott about their 5 weeks of travel that they were doing through Sweden, Belgium, France and UK.  What a small world.  We didn't get a chance to say goodbye when they left in the morning but we suspect the groceries outside our tent were a parting gift from them – thanks!
On our second day in Falkenberg I organised for us to join a free tour of the Carlsberg Factory that was in the town.  We joined the 11 am group of people that were all Swedish.  Luckily for us the main tour leader spoke excellent English and after the initial introduction that was mostly in Swedish, she became the tour guide for the 4 of us; the younger trainee guided the Swedish group. 
We donned our paper hats and green coats and set off to see the hops boiler room and yeast room – which both smelt quite strongly. Of course Steve with his luck of smell didn't get to fully appreciate the experience. We were all looking forward to the last part of the factory where the cans and bottles are filled and the caps placed on them for packaging.  When we arrived in the viewing gallery to see the process, all was quiet; they were on a break and it wasn't known when they were going to start the production line again. Bummer!  The boys weren't too disappointed because the next part of the tour was the taste testing!  We got to try about 10 different bottles of drink including soft drinks and alcoholic and non-alcoholic beers.  Some were good, some were ok and Steve found he enjoyed a lager beer after all.  Overall we had fun and it was free! 
We hit the beach again in the afternoon to soak up some sun and make more sand castles and to make the most of our last sunny days in Falkenberg before heading inland to the Kingdom of Crystal!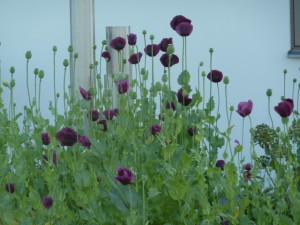 No comments yet.
Leave a comment