Days 154 & 155 – Kingdom of Crystal, Kosta Sweden
Before leaving to drive to Vaxjo (Vek-sher), on our last morning in Falkenberg, I checked our email and discovered the fax we thought we had sent to Spain regarding our accommodation had not worked. So we set about faxing it again from the camp ground and crossed our fingers that it would work this time.
We had another short day of driving to the Evedal Campsite just 5 km north of Vaxjo.  We pulled into the campground and set off on foot with a map to choose a tent site.  I didn't instantly like this campground; it wasn't as big or as busy as Granna or Falkenberg but the facilities weren't as good either. I did come to like it more over the 2 nights that we stayed.  The campsite was set beside a beautiful lake with two small swimming beaches and Harris enjoyed a swim the afternoon that we arrived.  We also enjoyed watching the brave people jump off the 10 metre diving platform into the lake.
On our walking tour of the ground we found the site we wanted; #212 which was close to the service building.  The camp kitchen and dining area were small and became crowded at times although they were quite new looking.  The bathrooms were also less appealing; maybe these campers were a particularly messy crowd.  The showers were scan card operated and you had to push a button to keep the water running.  We have seen this before in hostels and other campgrounds and usually isn't an issue but one shower I had required you to push the button every 4 seconds to keep the water running!  Makes washing long hair a little difficult! 
After dinner that first evening we drove in Vaxjo in search of a bottle of wine, which we didn't actually ever find.  What we did find was a beautiful lake in the middle of the city which we walked around and also found a fun playground for the kids. 
The next morning we were headed to Kosta.  I was so excited because we were going to meet up with Elvira, a young woman I met on a hike in Dalat, Vietnam. Elvira was so happy to hear that we were going to come to Sweden and offered to show us around Kosta and the famous Kosta Boda Art Hotel where she works.  That was an offer too good to refuse so we set off to meet Elvira outside the hotel at 10am.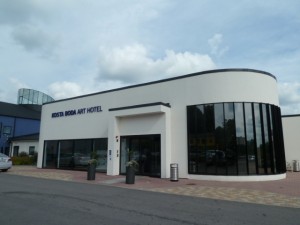 Elvira had 'Glass Passes' that we could borrow from her parents for the day. Normally you pay 95 kr for these to get entry to the glass works and for discounts on purchases; this was a great saving for us.  I didn't know that Elvira had also worked as a tour guide through the glass factory so she was able to give us a wonderful personal tour (in English) through the Kosta factory.  We watched some glass blowers making drinking glasses.  It amazes me that you can get so close to the workers and they work around the tourists with super hot glass and equipment everywhere. 
After watching the glass production line we headed over to one of the galleries to see some art glass; the fancy designer creations.  I was a little nervous with the kids in the glass factory and the art gallery but no damage was done! 
We headed back to the glass factory to see the top glassblowers in action, the guys that make the fancy creations.  This was ultra cool!  We could have watched them for hours as they created a fish in a house – see the photos to see what I mean.  The boys were mesmerised as well by the whole process and didn't once complain about being bored!
Elvira's parents had kindly invited us to join them for lunch so we headed to their house, just 5 minutes out of town. Elvira's mum Karin works has worked in the glass industry for years and currently works for Ikea; her dad Kalle  is a church musician and her sister Tora is about to start singing school.  They welcomed us into their home and had prepared a delicious Swedish lunch.  We love salmon and Kalle cooked so good fish!  We ate out in the garden under the trees and sipped on Australian wine; finished with strawberries and ice cream and enjoyed fantastic conversation. 
 After lunch we headed to Boda for a look at another glass factory and glass museum.  We got to meet one to meet one of the glass blowers, a friend of Karin's and get up close to watch him in action. 
The Glass Museum had a wonderful display of glassware and historical information about the glass district of Sweden. The boys enjoyed the area for kids – would have been nice to stay longer but we had a circus to get to!
 When we returned to Kosta we met up with Kalle. He had purchased tickets to see the glass circus.  We had no idea what the glass circus was about but thought this was a good opportunity to find out.  Karin and Kalle joined us for the 45 minute show. It was a mix of theatre, acrobatics and glass blowing; humorous, fun, interesting and sometimes just plain bizarre! 
We said goodbye to our new friends and thanked them for a wonderful day. We had really enjoyed their company and I was so glad I had kept in contact with Elvira.  Our brief interaction in Vietnam meant we were able to meet another wonderful family in Sweden and make fabulous new friends. Tack!
Leave a comment