Days 169 – 172 – Luxembourg weekend
Lovely lovely Luxembourg.  It was great to be able to see this beautiful city and country with my friend Judit as our guide. We went for a drive around the city with Judit pointing out all the major attractions.  We didn't stop to get out and about because we were headed for Vianden; a small town north of Luxembourg city.
We arrived in Vianden and parked the car so we could walk around.  We had a 2 pm appointment so we found a place to eat some lunch and then walked to catch the gondola ride up the hill to start our next adventure.  Now I am not a great lover of heights so the open gondola ride up was very steep and a little scary for me … but it was a good way of breaking me into what was ahead.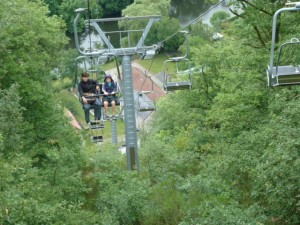 We were headed to Indian Forest Adventure Park; an outdoor tree climbing adventure for all ages.  Judit had wanted to come and visit for some time so having us visit was a great opportunity to check it out.  We had perfect weather for the afternoon and we all harnessed up for some climbing fun.  Both camera batteries were flat, whoops, so of course I have limited photos and footage. Judit had her iPhone so hopefully soon I'll have some more to add.  Patrick and I did the purple trail for small people and all others not keen on heights.  Harris was able to do most of the trails whilst Steve and Judit conquered as many as they could.  The taller you are the harder the rope course and the higher up you go into the trees!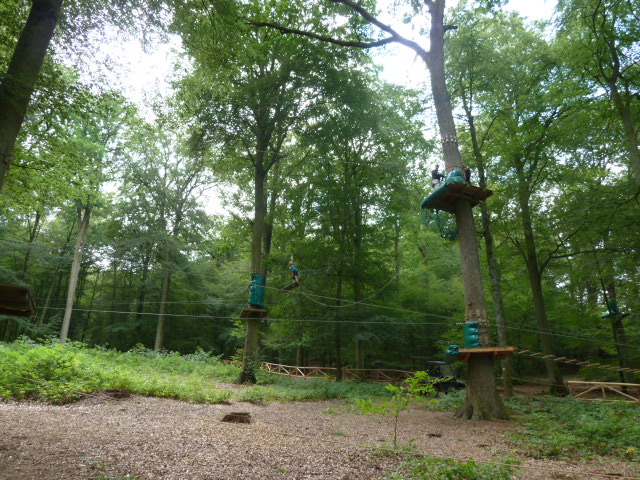 It was great fun.  When we all had climbed enough we returned to Judit's house for dinner and a movie before bed.
The next day we had a quiet morning with the kids watching movies, catching up on laundry and just hanging out in the rainy weather.  I got to drive to the local supermarket with Judit to grab breakfast.  We had a selection of pastries for breakfast, salmon and salad for lunch and then we decided we should finally leave the apartment.  We headed to a city one hour away in Belgium to go indoor rock wall climbing … the third thing for the weekend to challenge my dislike for heights!
Here are some action shots.  I'm on the ground with Judit up the wall and then the next photo is Harris. He made it right up to the top of the tall wall; I'm not sure how high it was but seriously high!
Steve and Patrick showing their rock wall climbing skills.
After our expert rock climbing (ha ha) we returned to Judit's for wine, cheese, meat and bread to celebrate the half-way point of our journey. When then watched another movie so we could get our fill of English language television before heading to bed.
The next morning we woke and got ourselves organised to drive to Belgium.  I got to try out Judit's rowing machine … a very cool Water Rower!  Judit had to head off to work but first followed us back to the large wooden playground where we said our goodbyes.  Hopefully it won't be 18 years before we meet again.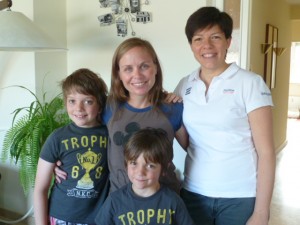 And here she is … Judit the Hungarian in Luxembourg.  Thanks for a wonderful weekend. We hope you come to Australia soon so we can spoil you with food, drink, outings, clothes washing and movie viewing!
No comments yet.
Leave a comment