Days 192-194 Lazy Days in Donegal, Ireland
It was lovely to have a sleep in and leisurely pack up our gear as we didn't have to be out of the hostel in Cong until 10.30 am.  We had to search for a lost pot that accidently got left in the hostel kitchen and joined the ranks of the other 50 pots and pans and miscellaneous lids.  Steve found the pot and I returned to the kitchen to turn everything over to find the lid; I found it.  I wasn't leaving my 8 pound favourite pot and lid behind. It has been a faithful friend for all the one pot dinners I have cooked!
I wanted to say goodbye to Brigid who had welcomed us to the gatherings over the last 2 nights so we drove the 1 km to the pier to say goodbye.  Her daughter Emma was on the boat but Brigid was still fast asleep so we couldn't thank her again for her wonderful cooking and great conversations – thank you Brigid.  Also all the best to Lorna and Neale who are setting off to spend their life savings on 3 months travel in Asia; they are both about 25 years old so I don't know how much in the way of life savings they have but you can go far on a little bit in Asia.
Back on the road heading north; we stopped in Ballinrobe at the large Tesco to get some bread for lunch.  Our esky/cooler bag was full of supplies for lunch as we didn't eat it for dinner the night before when we joined in on Brigid's BBQ dinner.  The weather was changeable as we drove along and one minute would be sunny, the next we'd drive through light rain or heavy rain.  We arrived in a town called Sligo for lunch. First we stopped in the Dunne's Store to use the bathroom; wish I could have stayed longer because they have great summer sales on right now but everyone was hungry and we needed to find a picnic spot.  We came across a beautiful river and plopped our blanket down beside it.  Little did we know at the time, if we'd driven just 1-2 kms more there was a nice park and a large playground.  Nevermind.  It worked out for the best because as soon as we'd finished our lunch the rain moved it and we had to race to the car; if we'd been in the playground area the boys wouldn't have eaten there lunch before the rain set in.
We then drove to Donegal on our way to the Bluestack Centre Youth Hostel.  Just out of Sligo were some amazing mountains, that weren't mentioned in the LP.  Steve spotted a sign for a lake so we turned off the highway and drove the 7 kms down the road to find it. 
Looking up at the mountains as we drove we spotted numerous waterfalls and at the end of the road at the lake there was a carpark and small path leading to another waterfall.  It was a gorgeous location and a nice surprise along our drive.  I was keen to get to Donegal as we were all very weary from our late night in Cong.
When we made it to the YHA we were surprised to find it all closed up. We knocked on the door and called the phone number and no answer.  I knew we had a booking so I was a bit confused.  We sat in the car and read our new Irish Fairy Tale book and within 10 minutes a lady arrived. She said she wasn't starting work until 4 pm today because she'd worked late last night – ok, how were we to know this.  Lucky we hadn't arrived any earlier.  She showed us to our room and gave us a tour of the hostel.  There was only one other couple staying in the hostel for the evening so we had the kitchen and tv room to ourselves for most of the evening and enjoyed listening to the rain falling on the roof. 
My first impressions of Donegal were a little mixed.  It was a funny little place in the middle of nowhere but quickly we grew to like it for that reason.  Our first night there we only shared the hostel with one other couple and the next night 2 other couples so it was very quiet and very relaxing.  The boys treated the large tv room like it was their own and played Lego and channel surfed to their heart's content.  The kitchen was really nice to cook in and not stainless steel and sterile looking like many youth hostel kitchens; plus I had it to myself every time I cooked.
I found a brochure which advertised the Blue Stack Centre and Youth Hostel as luxury accommodation.  Wow, I never knew that make-your-own bunkbed with a shared shower and loo down the hall constituted luxury!  What will I think about my own house when I return to my queen-size bed and ensuite?! 
Our first day in Donegal was a very lazy day spent in the hostel in the morning and after lunch we headed into downtown Donegal for a drive.  The playground was pretty cool and the boys got a play in before the rain came over.  Given that the rain was setting in again we decided to extend our drive and check out the Blue Stack Drive which takes in the Blue Stack Mountains and the country farms.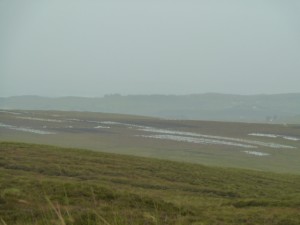 On the hills we could see white bags that were being filled with turf/peat for fires (we think).  The hills were also covered with sheep of all colours; that is the sheep have been sprayed painted with fluoro pink, green, blue and orange paint so they can be identified.  Quite hilarious to see and we have had fun spotting rainbow sheep all over Wales and Ireland.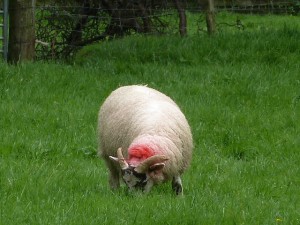 After our drive we returned to the comfort and quiet of the hostel so we could have another 'home' cooked dinner and hang out, plus get organised so we could move onto the next hostel in the morning.  We had enjoyed our quiet time in Donegal.
Leave a comment