Days 20 – 23 in Phnom Penh
Made it out of KL to Phnom Penh on AirAsia without a hitch. Got picked up at the airport in the hotel car and checked into the Khmer Royal Hotel right on the Tonle Sap River (Thanks Mr Tucker for the recommendation). We got a room overlooking the river walkway and set off on foot to find food.  The highlight of the evening was watching the hip hop dance lesson and aerobics and then joining in. 
Our first full day in Phnom Penh was spent discovering the National Museum; Central Market; Sorya Shopping Mall and its food court and Lucky Supermarket. We all had our first tuk tuk ride; returned to the air- conditioning back in our room during the heat of the day and went to Frizz restuarant for dinner. 
If you noticed Harris's face in the above photo, he is sporting a decent graze right down his nose. This was an injury sustained at Sunway Lagoon in Petaling Jaya, Malaysia. He was playing in the water happily one second and the next in tears and off to the first aid people!
Our second day in Phnom Penh saw us hire the hotel car for $25 US for the day to drive out of town to the Killing Fields. It was well worth hiring an airconditioned car as the road was very dry and dusty and we would have been coated in a huge amount of dust in both directions.
We walked around the Killing Fields and watched a short film explaining the history of the place. We saw the 'stupa' where they house the bones from the 86 mass graves that have been excavated; a total of 8,925 skulls. The building has 17 levels of bones arranged i n categories of the type of bones e.g. skulls for male/female and age group; large bones and smaller bones.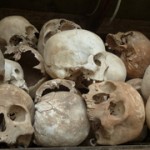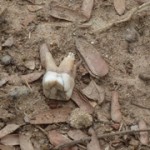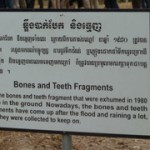 Following the Killing Fields we went to the Tuol Sleng (S-21) Museum which is the primary and high school where detainees where held, tortured and killed.  When there was no further room for burying victims, they were taken to the Killing Fields to be killed in mass graves.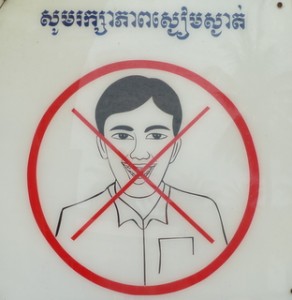 On this day we also squeezed in a visit to the Vietnamese Embassy in order to get visas for our visit after Cambodia. We returned at 4pm in the afternoon to pick up our passports that we had to leave with them. We lunched at the Soyra Mall Food court again with each main meal costing just 6,000 or 7,000 riel (4000 riel + $1 US).  That evening we ate at a little restaurant on the main street and then Harris and I went to aerobics and hip hop again.
Day 23 – I headed off for a full day Cambodian cooking class at the Frizz restaurant. $20 US from 9 am to approximately 4pm. It included a trip to the wet market. Without a camera for the day I am sorry that I can't include photos of the pig heads; dead chickens and ducks and my favourite the skinned headless frogs that were still moving!
There were 11 of us from Australia, England, France and Germany doing the course. We made spring rolls, fish amok, banana flower salad and mango and sticky rice. Overall the day was enjoyable; I learnt a few new things and met some lovely people. I did however speak too soon by saying I hadn't had any stomach issues – by the evening my stomach was spasming and the Buscopan came out! Steve also suffered tummy trouble overnight – thankfully we have a chemist shop of medications with us.
We met up with Lyn Hotchin from Singing Kites School at a lovely restuarant called Khmer Surin. Steve ate frog legs – which no doubt where from the market I was in earlier that day!  We head off to the school to volunteer on Sunday 6th March. The boys are really excited and Patrick has decided the first thing he will do is play snakes and ladders with the kids. 
Leave a comment