Days 205-207 Edinburgh, Scotland
We drove from Appin to Edinburgh after checking out of our cabin.  It was hard to leave after our enjoyable week.  Maybe we should have stayed two!  Anyway, back on the road for our 4 hour journey.  We stopped near Crianlarich for lunch on the run and then off to Stirling.  We drove around Stirling and took in the Old Town, Stirling Castle and Bannockburn Monument from the comfort of the car as we didn't feel like getting out to sightsee!  Back on the highway to Edinburgh so we could check into the Ivy Guesthouse.  Steve's first attempt to book us accommodation; let me say that again, Steve's first attempt to book us accommodation was a success. 
The Ivy Guesthouse was on the main road with a very handy bus stop to get into the city; a car parking space; good wifi; a cooked breakfast and a lovely floral room!  It certainly wasn't like anything we had stayed in before.  Thumbs up Steve!  We settled into the room and then headed off on foot into town to see some sights before dinner.  It is probably a half hour walk if you walk directly to the city but we went via the large playground we had spotted when driving into Edinburgh.  The playground can be found in The Meadows.  We know our playgrounds and this one rates as one of the best we have come across, and we didn't have to pay to get in like in Paris!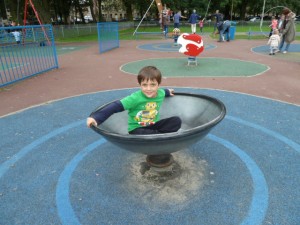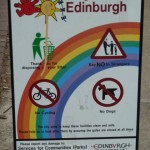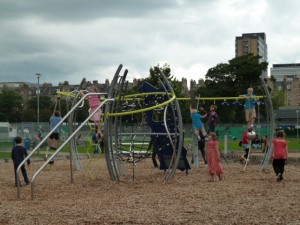 After the boys burnt of some of their stored energy we walked to the middle of the park so we could head up the lane, via Starbucks, to Greyfriars Kirk (graveyard) to see the memorial to Greyfriers Bobby. Greyfriars who you ask?  Greyfriars Bobby was a small Skye terrier dog that loyally sat by his master's grave for 14 years; until his own death in 1872.  He become a celebrity dog and was known all over the city.  Now thousands of tourists come each year to see where Bobby and his owner are buried and the memorial statue that was erected in 1873.  We bought a story book about Greyfriars Bobby so the boys had an idea of what the whole pilgrimage to the graveyard was about.
After posing for photos with a dog, we headed towards the Royal Mile; the main tourist street in Edinburgh.  Now the good and bad of not knowing exactly where we are going to travel to next and when meant that we ended up arriving in Edinburgh on, not only the Bank Holiday weekend but also, the last weekend of the Fringe Festival and the famous Edinburgh Military Tattoo – aren't we clever!  Meant that accommodation costs couldn't possibly be any higher but also that the whole city was a hive of activity and lots of fun.  The Royal Mile on Saturday night and Sunday, when we went in for the day, was like a circus with buskers galore and every odd bod in Edinburgh, and from around the world, was out and about.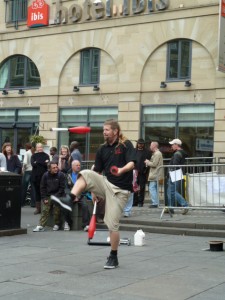 We enjoyed watching buskers during our time in the city and by far the funniest was a guy from New Zealand called 'Mullet Man'; referring to his mullet hairstyle.  I don't think I have laughed that much in a long time, he even bought tears to my eyes and when I think about his act I have to snicker again. We have seen a number of buskers in our travels and they often use the same old jokes and do they same old juggling.  Mullet Man was genuinely hilarious.  He managed to finish his performance before the rain arrived and then we quickly grabbed some lunch.  The only dry spot was an alley to stand in to eat but we could watch some street performers at the same time.  The Royal Mile had small stages set up all along it for scheduled street performers.  We watched a few different acts during the day although the weather was atrocious and alternated between freezing, windy and wet and just freezing and windy. 
Desperately needing somewhere warm and dry to pass the afternoon we walked down the street to the National Museum of Scotland.  Wow, what another great find; although a few thousand people had also 'found' it before us.  It is one of the best museums we have seen and it is free!  Got to love that.  In the few hours that we were there we tried to see as much as possible but the museum has 5 floors and every floor is filled with really interesting things to see and do.  Every floor that we went on had a special area just for kids; it truly is one of the best museums for children. Skeletons, stuffed animals, lighthouses, Dolly the sheep, robots that spell your name, ancient Chess pieces, costumes …. what more could you want?
What else did we see in Edinburgh?  Well, no visit is complete without seeing Edinburgh Castle.  We saw it!  But not from the inside.  The tickets are expensive and we didn't want to spend the time or money to see one thing given that we only had 1 and 1/2 days of sightseeing.  We have seen a number of castles so we appreciated seeing this one from afar and up close.  The stadium for the military tattoo was set up in front of the castle so we got to walk inside the stadium and see where the performances took place … and that afternoon we watched the last performance broadcast on television!  The best way to see the tattoo was on tv as the stadium is open air; last night it was freezing, windy and probably rained for most of the tattoo.
That really sums up our time in Edinburgh.  It is a city that I would gladly come back to, hopefully in better weather but it didn't put me off entirely.  I will write another post very soon about the other reason why we came to Edinburgh -  Baigrie Family History.  This post will explain why we have spent time visiting war graves, churches, highlander museums and scouring streets and cemetaries for landmarks in the search for Steve's ancestry! Keep you posted on that one.
Leave a comment