Days 234-235 Spain to Gibraltar and back
Steve spent 9 days completing his Day Skipper sailing course with the Hot Liquid Sailing Company, based in Gibraltar.  During this time the boys and I hung out in Marbella doing very little!  On Steve's last day the boys and I got the bus to the main bus station in Marbella and then a bus to La Linea on the Spain/Gibraltar border so that we could all meet up.  Just in case you were wondering, buses in Spain are very efficient, airconditioned, comfortable, clean and affordable. Price tag: 6.45 Euro each to get from Marbella to La Linea.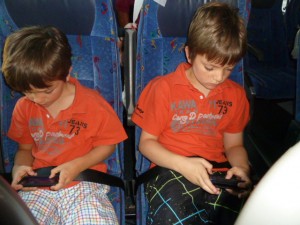 Our two bus journeys went smoothly and we arrived in La Linea without a hitch.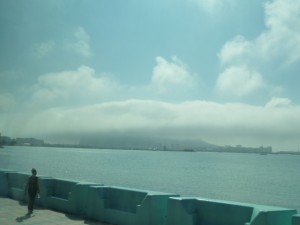 Our first glimpse of 'the rock' (in the photo above) was a little disappointing since 3/4 of it was covered in cloud but eventually the cloud blew away and wow, it really is a big rock!  Steve had given us some instruction on how to then get ourselves to Gibraltar. We headed off on foot to the border, waved our passports under the noses of two uniformed men who didn't bat an eyelid and we made it to the other side, Gibraltar.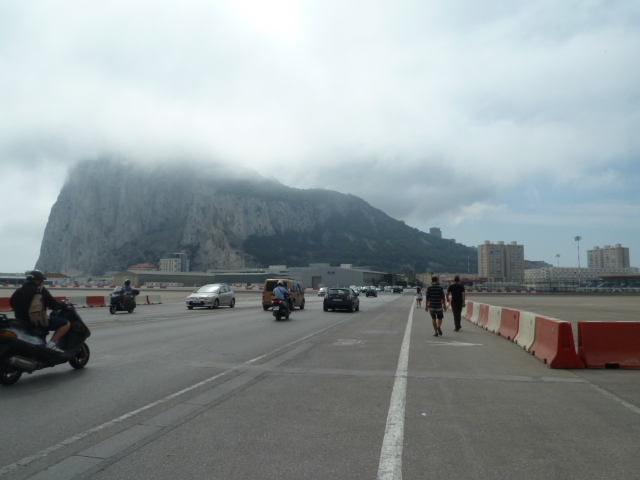 The photo above shows the cloud beginning to lift to reveal the Rock of Gibraltar, as we walk along the runway of the airport. Yes, the actual runway, not just the tarmac.  You have to walk or drive across it  to get to Gibraltar! We (me) chose to walk to exercise some young legs and it really was quite fun to stand and look directly down the middle of a real runway.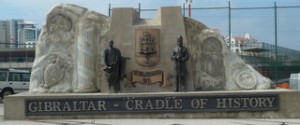 Once we made it to the other side of the airport, there was no mistaking that we were now in British territory.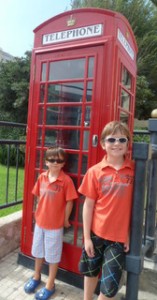 For all those that may not have been 100% sure … there is an English phone booth to prove it.  Then you look over and see hibiscus and you have to remind yourself that you are in British territory but not really that close to Britain.  We spent enough time in the UK over the summer to know that no self-respecting hibiscus would bother to grow there, even on the warmest of days!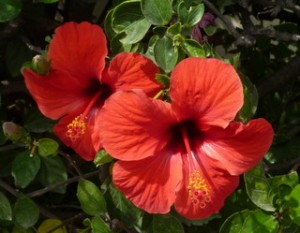 Once we got to the other side we had no idea where to go to find our hotel because I didn't have a map with me.  I had briefly looked online in the morning and knew which general direction to head so we set off again on foot.  We made it to Casemate's Square for our picnic lunch and a rest and found that the information centre had closed 1/2 hour earlier; no chance of a map now.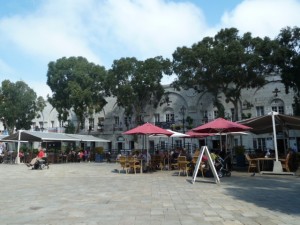 Gibraltar is famous for the babary apes that live on the rock. Of course, commercialisation has taken over and toy apes can be purchased everywhere. No, we did not buy any of the above or anything else ape related.  Gibraltar is also famous for tax-free shopping and there are loads of stores selling alcohol, tobacco and more importantly perfume!  I did purchase the largest bottle of my favourite perfume even though I now have to lug it around the world for another 4 months.  The dribble of perfume I brought with me when we left Australia run out months ago and I've been wanting a new bottle ever since.  The price was right and heck, it is nearly my birthday!!
Anyway, back on track and the boys and I kept on walking and following the signs to the Queen's Hotel. Finally we found it and truly we had walked a good 3/4 of the length of the country by now.  We checked into our daggy little hotel.  We have paid less to stay in better youth hostels but location, location. This was the best place to stay in Gibraltar to be close to the city and we found out was by far the best place to meet Steve as the marina was just down the road.
The three of us headed off to Queensway Quay to meet up with Steve and his fellow crewmates. Just 20 minutes after arriving at the quay we watched the boat motor into the marina.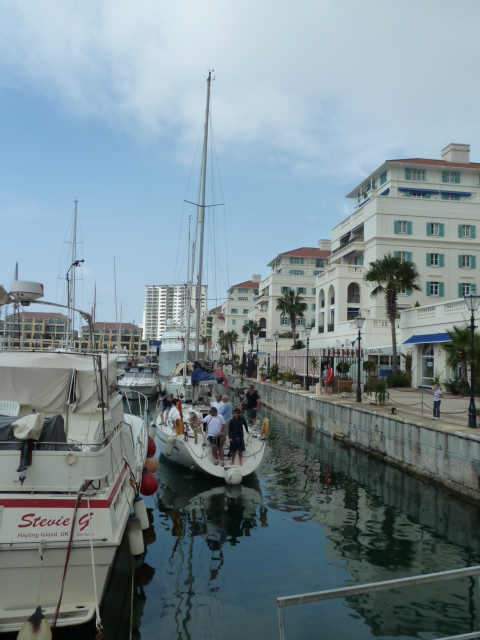 Harris and Patrick enjoyed watching the boat come in and then got to go onboard and check it out.  I also went on board and chatted with Jane, the only woman on the course with 5 men for 9 days!  She said she had an interesting insight into the male mind for that time and poor thing had to suffer through sharing a boat with them all; holy mackeral the smell of stinky men hit my nostrils and stuck there within the first 30 seconds of being on the boat – urgh!  (Note to self: when I do a sailing course sometime soon I will remember to choose a women's only course!).
After washing down the boat; unloading all their gear and cleaning up a little, the crew met at a local bar for a wrap up of the week and to swap email addresses.  Don't forget you are all welcome to come and visit us down under!  Steve said goodbye to his shipmates and we headed back to the Queen's Hotel so he could freshen up.
It was too early to head off for dinner so we decided that since the cable car to the top of the rock was directly in front of our hotel, then we should make the most of the clear weather and head up. Steve had already been to the top of the rock earlier in the week but we all went again (adults 9 Euro return and kids 4.50 Euro return).  You could walk up/down the many many stairs if you so desired and I probably would without children but the timing wasn't right so we rode the cable car up and down.  It is one heck of a ride up over 400 metres to the top and as soon as we stepped off the cable car we spotted the locals. 
During our travels we have seen many monkeys and every time we remind the boys not to get too close. Signage is everywhere warning you not to feed or attempt to touch the apes but that doesn't stop some silly people.  I stood next to a French lady when she attempted to pat a baby ape.  Baby ape's big mother moved forward, growled and bared her teeth!  There is no way I'd want those teeth in my arm.  French lady quickly moved back from little baby ape and hopefully learnt her lesson.  They also tell you to keep food and drink hidden away from the apes and same French lady was seen down one of the tracks  sitting down leisurely eating a piece of pizza.  Whilst there were no apes immediately in her presence, I wouldn't like to chance it!
We know why the apes love the rock.  Check out the view!  Whilst our travels haven't included visiting Africa, I can say I've seen it … from afar!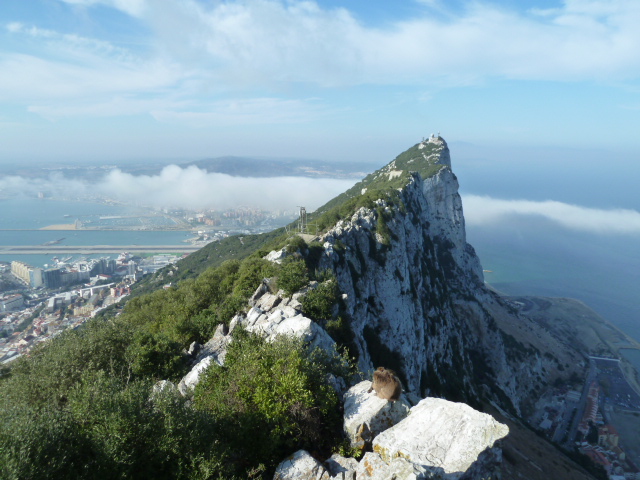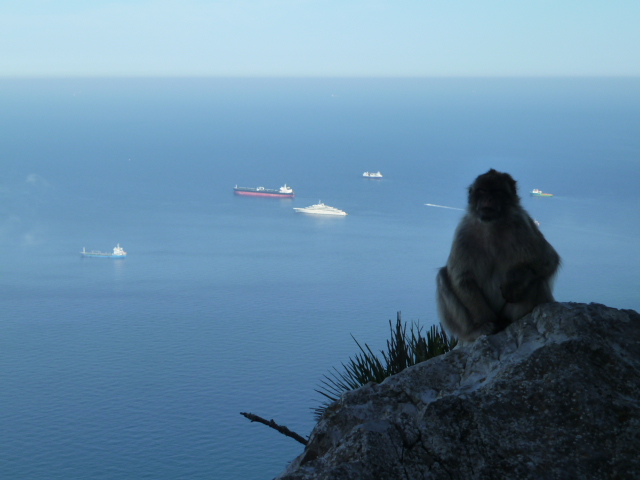 After taking in the view we were all started to get hungry and tire from the sun so we headed back down to the town to find food.  We set off on foot back down Main Street to find somewhere to eat.  A small pub which offered two main meals for 9.50 pounds was our choice. The young man serving was totally useless and could barely string three words together but we managed to get a decent feed; especially after I asked for Steve's chips to be replaced.  Surely an English pub should know how to cook decent chips and not serve up shivelled bits of potato.  My days working at the corner store as a teenager mean I know how to cook a good chip and I don't feel embarrassed to send back inferior ones!  With dinner over we strolled down the rest of Main Street in search of icecream.  We finally found a small convenience store just before they closed their doors and bought packaged icecreams for the return stroll home.
By the time we made it back to the Queen's Hotel we were all well and truly exhausted and ready for bed. Whilst the hotel was past its prime, I think the beds were fairly new and we all managed to get a good night's sleep for our return journey to Marbella. The hotel price included a cooked English breakfast, something we haven't had in a month.  It was a greasy affair but otherwise enjoyable and filled us all up before we packed up and checked out.  Not really wanting to do anymore sightseeing in Gibraltar, which would have meant paying for a trip or catching buses and lugging our gear with us, we decided to stroll back into town and make our way back to La Linea.
We did manage to make it to McDonalds and the Morrisons supermarket to stock up on some supplies and then got a bus that was headed to La Linea.  Lucky for us we got stopped along the road right in front of the runway.  The barrier had come down and the security guards pulled a spiked chain across the road to stop any vehicles crossing as a plane was going to take off along the runway. We had a great view of the plane taxi down the runway and take off!  Great timing.
Back at the border crossing we walked straight through immigration and back into Spain.  Back to the bus station and the next bus to Marbella was at 16.3o hrs, four hours away!  What on earth were we going to do for four hours?  Well, we did in fact manage to fill in that time with reading books; walk to the park and back; Patrick found a conker and happily threw it in the air to catch a billion times; played iPods; read the newspaper; bought a Spanish cooking magazine and tried to decipher it; people watched and waited.
The bus ride home was relaxing and then when we arrived in Marbella we had it all planned to catch a particular bus that would bring us directly to our door; only that bus didn't come!  We could have caught 3 buses prior to that one if we'd known so we had to wait longer and then the bus we did catch was a 40 minute ride home!  Aaaah! 
Finally back in our apartment and within minutes I had dinner cooking, washing on and kids to the beach!  It was great to be back 'home'. I had enjoyed my short side-trip to Gibraltar but I sure am glad that we stayed in Marbella whilst Steve sailed.
Leave a comment