Days 24 – 28 Siem Reap (Photos are here!)
Back again and I apologise for my tardiness in writing. We have been very busy but I have also been a little lazy! 
Our last day in Phnom Penh was a quiet one. We took a slow 2 hour boat ride into the Mekong which wasn't that exciting to be enthralling after all.  Harris and I joined our last session of hip hop and aerobics along the river walkway and we got ready to catch a bus to Siem Reap.
Days 25 – 28 were filled with long bus journeys and temple touring. We were picked up by a tuk-tuk from the hotel which took us to the bus stop to catch the 6 hour bus to Siem Reap.  It was a modern bus with a toilet and airconditioning and a really loud television stereo system that played the most ridiculous movie ever.  Wise to remember ear plugs in future. Steve was told 'only one stop'! Well, about 7 small stops later we arrived in Siem Reap.  We were immediately bombarded by tuk-tuk drivers hassling us for hotels and rides.  We had our own guesthouse driver waiting for us.
Rosy Guesthouse is situated along the river away from 'Pub Street'. What a fantastic little find. Owned by English people it has basic rooms upstairs and a balcony and below a neat little pub with a pool table and Wii on a big screen for the kids.  We enjoyed great eggs on toast for breakfast, fantastic ice coffee and the our first meat pie and hamburgers for weeks.  We could relax with a beer and know the kids were happy playing the Wii.
On our first afternoon we went to the ticket station to buy our one day ticket to see the Angkor Wat temples.  We paid $20 US each and kids were free! After 4 pm you can use your ticket to get into the temples early so we did. We very quickly realised that we would be constantly hounded by kids and adults selling everything from water, books, scarves and beads as soon as you step near a temple.  Very annoying but if you had to make a living selling things you would do it too. When two ladies wanted to sell us water at the same time we just bought 2 bottles to keep the peace! My favourite spruik from a little girl selling a scarf "Buy one for your uncle!".
As for the temples, well, apart from the 3000 other tourists that visit everyday, they are truly a sight to see. We hired a driver for the whole day so we could escape to the air conditioned car between temples. Much nicer than a tuk-tuk and being covered in dirt and dust all day and was definitely our saviour seeing temples with children.
If you had the luxury of time then you could see the temples at a leisurely pace. We didn't want to spend that much time looking at temples so we tried to see the best of the best (like everyone else!).  Took a billion photos, although after awhile they start to look the same. We went to Tah Prohm which features in Tomb Raider. The trees growing out of the temples are amazing.  Banteay Srei is a 'jewel in the crown of Angkorian art', so they say. It was crowded with tourists and little shops set up to sell sell sell. We retreated to some trees where Patrick discovered these cool seed pods on the ground.  When you throw them in the air they spin like helicopters coming down. Lots of fun.
We dropped in at the Landmine Museum ($2 for adults) on the way back and also the Butterfly Farm ($6 adults/$4 kids). We all enjoyed the Butterfly Farm. The guide had good knowledge of the butterflies and we got to see the life cycle of the butterfly up close and personal.  Only downside, we were there in the middle of the day and there is no shade.  We lunched and then headed to more temples. Temple touring was starting to wear thin!
We headed to Angkor Thom which is renowned for its amazing gates.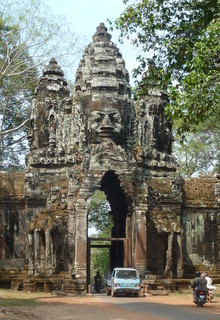 Our last stop – Angkor Wat once more time to have a better look around. We were hot, sweaty, dusty, tired and generally over it by this time so we walked, looked, sat, walked and headed out. We returned to our guesthouse for well earnt showers and food.
Our second day in Siem Reap was quieter. We headed to Artisans Angkor, a centre where local people are trained in painting, stone masonary etc and demonstrate their crafts on a free guided tour.  It is very professional and well organised. At the end there is a beautiful giftshop, where they hope tourists will purchase their wares.  We spent $2 on a star for our Christmas tree! 
From this centre you can also book a seat on their free bus tour of the silk factory. Harris and I went back for the 1.30 pm tour. The bus took us about 20 kms out of town to a centre which shows you the silkworm from egg to coccoon. You get to watch the process of spinning the coccoons to get the silk off and then every step that follows. Whilst it was very hot and sweaty in the factories, Harris was totally occupied as a French family was on the tour with us and they had 3 boys aged 9, 5 and 4.  Harris and I rewarded ourselves with a trip to the Blue Pumpkin, a local ice cream store with a cool room lounge upstairs to relax.
Whilst we were in the Blue Pumpkin I recognised the same  international school tour group that had stayed in the Khmer Royal Hotel with us. I had spoken to one of the teachers the morning they left Phnom Penh.  They had completed their whirlwind 6 day tour of Cambodia and were flying home that night. They had a one day ticket for the temples also and reported there was near anarchy by the end of the day "Not another temple!"
Our last day in Siem Reap meant a very early start, jam sandwiches on the run and being picked up at 6.45 am for the next bus ride. We were heading to Battambang (Battem-bong). Why … read the Battambong post to find out!
Leave a comment