Days 244-246 Barcelona, Spain
We woke after a crappy night of sleep in the noisiest backpacker hostel ever; in fact the same can be said for every morning after sleeping at the Center Ramblas Hostel in Barcelona – you have been warned.  We had a free breakfast every morning and again, it should be free. If you'd paid money for that breakfast you'd be seriously upset!  The cornflakes might have well just been yellow bits of cardboard and the juice and coffee left a lot to be desired. It was safest to stick to the toast and bad jam as the pastries were also terrible.  Just as well we could cater the rest of our meals ourselves.
Best thing about the hostel was the location, two blocks from the famous Las Ramblas, a street once enjoyed by locals but now constantly overrun with tourists, buskers, flower sellers, portrait drawers, scammers and restaurant tables.  It was interesting to walk along it but nicer getting off the beaten track and discovering the side streets.  Every day we headed out into the city to sightsee and try to find some peace in this big city; everywhere you went there were crowds. I had no idea Barcelona was such a popular place to go.
We had a few must see things on our list e.g. La Sangrada Familia, the massive church designed by Gaudi and still being built; the Picasso Museum and the Maritime Museum; plus there were many other sites that we came across incidently.  Here is a photo gallery of what we saw and did.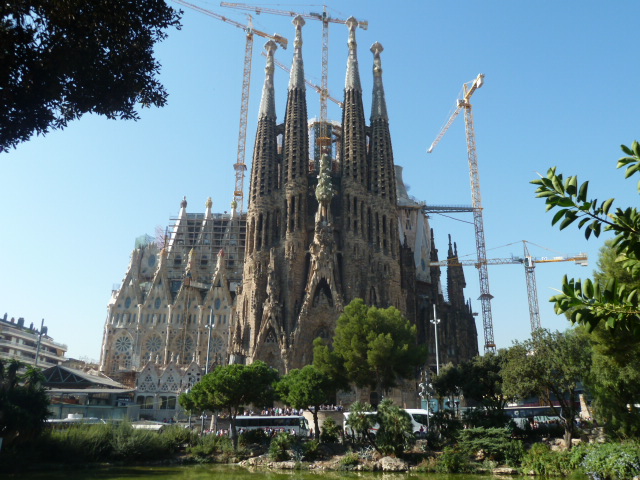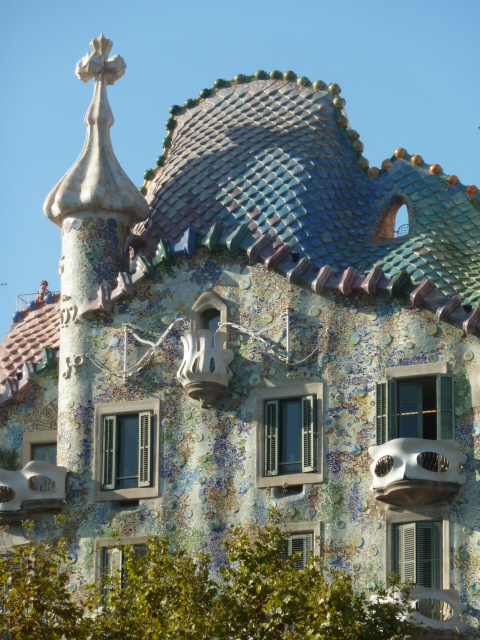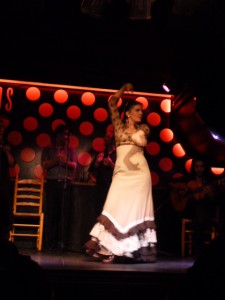 We went out for tapas and sangria one night and then to see a flamenco show that; all part of a small organised tour.  There were only 8 of us in the group that night and it cost 20 Euro each.  It may not have actually been worth the full 20 but anyway.  The flamenco dancers were very good; the guitar and sining not nearly as good. We saw buskers at Park Guell the next day that played better flamenco guitar. 
We walked all the way to La Sangrada Familia and arrived to see the line up for tickets nearly lapped the perimeter of the building; which meant at least a 3 hour wait to get in; we decided that we could really appreciate the detail on the outside of the buildling, save the 40 Euro and enjoy Park Guell, another Gaudi masterpiece for free. I thought Park Guell was amazing and just as great as his other works in Barcelona and more interesting since I'd not seen any images of it before.  Enjoy the photos I've included. The other funny thing that day was watching all the illegal sellers of 'stuff' set up on the main viewing area.  When the police arrived there was a mad scramble in which they grabbed their wares; fled up the hill where we were having morning tea and proceeded to 'disappear' and try and mingle with the crowd.  Some hid their things under the bin liners of the park garbage bins whilst others actually went into the gardens and dug their bags into the garden!  The police hung around long enough that they didn't get to set up their stalls again whilst we were there.  What a horrible existence.  The police didn't make any arrests. They were obviously just showing their presence as a way to move them all on.
Patrick was keen to get to Park Guell because he had his heart set on finding this lizard to pose with … so did everyone else!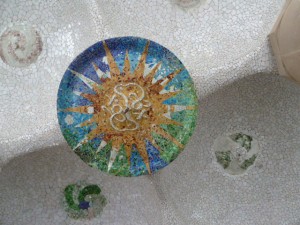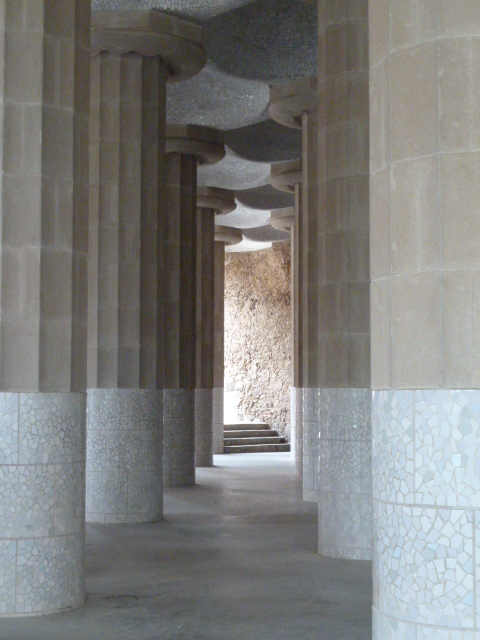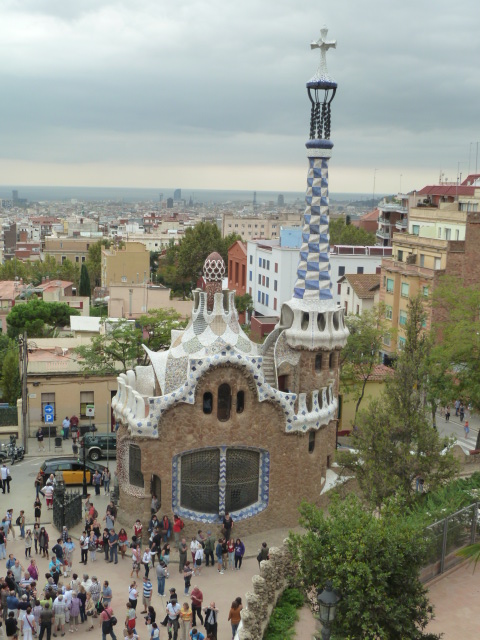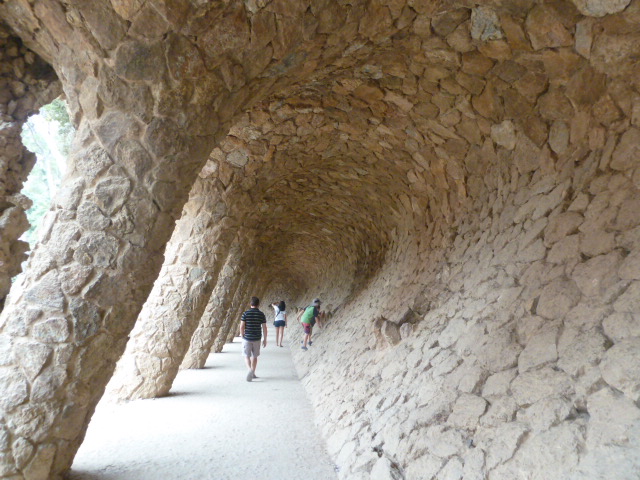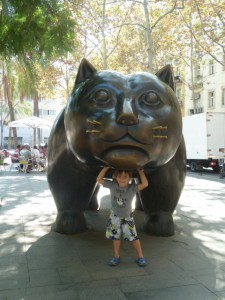 We had fun watching some old guys play a game similar to skittles in the park opposite La Sangrada Familia.  It looked as if it took some real effort to knock over the pins. No idea of the name of the game or the rules but it was entertaining.  As were the old guys playing bocce on the dirt beside them.  Watching the daily lives of the local people is the most interesting thing to do and nicer than rubbing shoulders with thousands of tourists at an overrun, overpriced attraction.   Patrick had also spotted this cat in a brochure and was most impressed when we found it completely by chance!
We headed to the Maritime Museum one morning. It was disappointing that it is being refurbished because most of the museum is closed and they didn't give a discount on the admission price.  The museum was still interesting and will no doubt be well worth visiting when it is finished.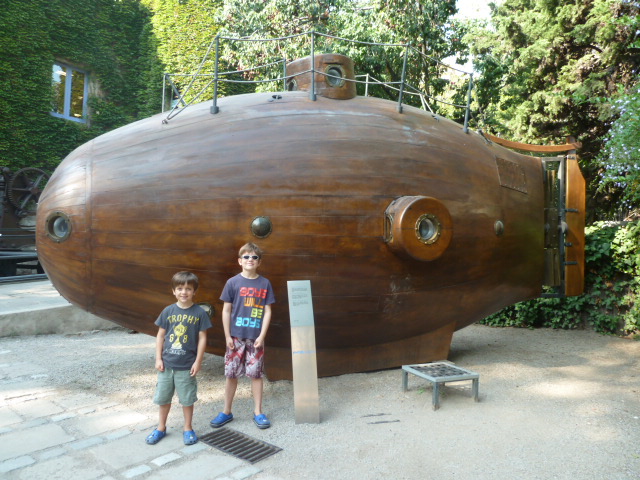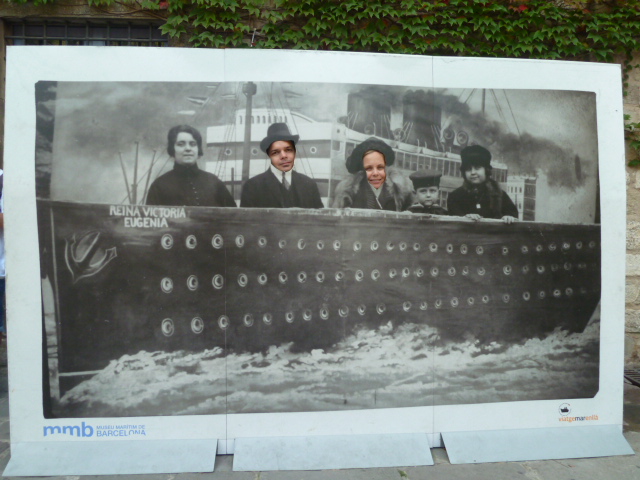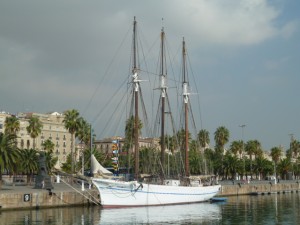 Another of our favourite quiet moments in Barcelona was sitting in Starbucks and watching the busy port in front of us.  We saw a huge cruise ship come into the harbour and dock.  It was amazing to see it turn and fit into the space it had available.
I went to the Picasso Museum all by myself; well not really as I was joined by thousands of others tourists; the boys did boys stuff instead.  It was well worth the admission price; I thoroughly enjoyed the collection they had on display and was lucky enough to tag along beside an English speaking guide for another tour group! 
Overall we enjoyed our days in crazy tourist overrun Barcelona. Would I go back?  Hmm, possibly not to Barcelona but definitely to Spain.  I have more horchata and granizado (ice coffee) to drink and need to eat 'good' paella.  There are so many cities that we still have yet to explore including Cadiz, Seville, Madrid and Toledo, so we will return … one day. 
No Comments
No comments yet.
Sorry, the comment form is closed at this time.