Days 264+ Mandan, North Dakota days
We enjoyed a slow start to our days in Mandan but Sandy and the kids would all rush out the door to work and school.  We'd enjoy breakfast with Steve and Evan and then work out our plans for the day.  On Thursday we headed into downtown Bismarck to see the Capitol Building and to meet Sandy at work.  We took a tour of the Capitol Building and the adjoining Heritage Centre.  Thanks for lunch in the cafeteria Sandy! The free Heritage Centre was fun and the Capitol, with all its timber and art deco design was just gorgeous.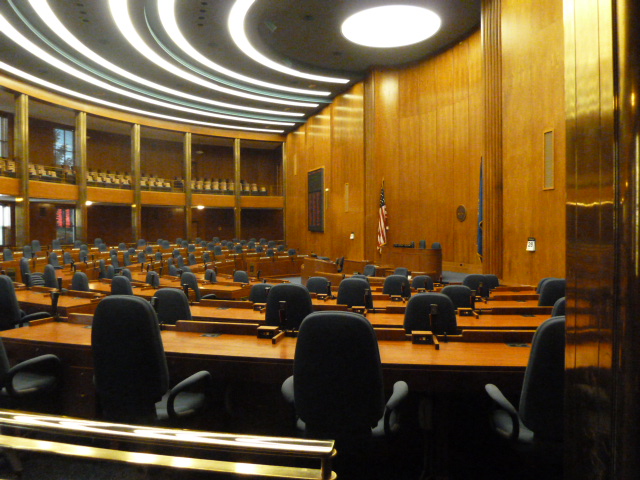 The view from the 18th floor of the Capitol Building was fantastic.  When the building was built in 1936, after the first capitol building burnt down, it was the only building around and could be seen for miles across the prairies.  It is  still  the tallest building in Bismarck.  Little known fact (I'm sure) is that Bismarck holds the world record for the most people making snow angels.  Check out this photo taken from the 18th floor overlooking the same grass area but covered in snow and people in 2007.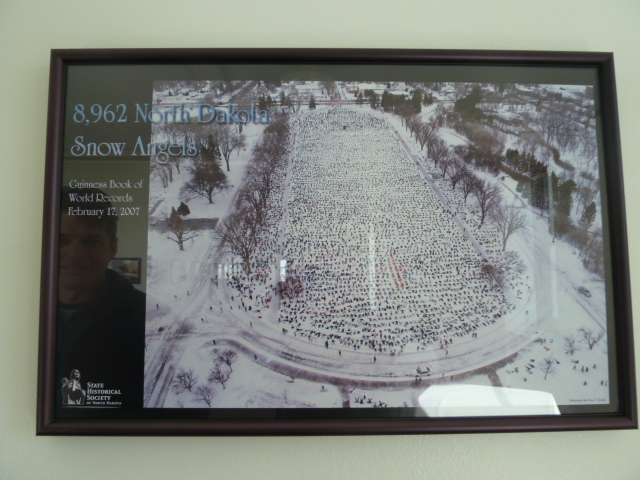 On Friday Steve got the opportunity to meet the local Fire Chief, also called Steve, and tour the emergency services of Mandan.  Steve is glad he doesn't get paid just $7/hr and those transfers from Goondiwindi to Toowoomba don't look so bad in comparison to 6-8hr drives each way to Minneapolis and back!
Whilst Steve was enjoying his fire station tour (thanks to our friend and local councillor Sandy) I drove into Bismarck with the boys and headed straight to the huge Barnes and Noble bookstore; grabbed some Starbucks and spent 2 hours perusing.  Patrick read eight readers whilst we there and we left with a book about the explorers Lewis and Clark, since we are in their territory.
One of the main reasons for coming to Mandan at this time was so we could celebrate Harris's birthday with friends.  That weekend revolved around kids' sporting activities, birthday celebrations for Harris's 10th birthday and some Halloween fun.  Harris's special day started with choc chip pancakes and sausage!  After breakfast we gathered everyone so Harris could open his presents.  Evan, aged 3, was most excited and was sure that Harris was going to get a fire-truck; despite the fact that none of the presents were large enough and shaped anything like a fire-truck.  Every present Harris opened was met with an enthusiastic 'Oh My Gosh' from Evan which was very funny.
Harris scored some new clothes, Lego, a much wanted Lego Star Wars character book and a new backpack that he can use for school next year (plus hold all of the fore mentioned gifts).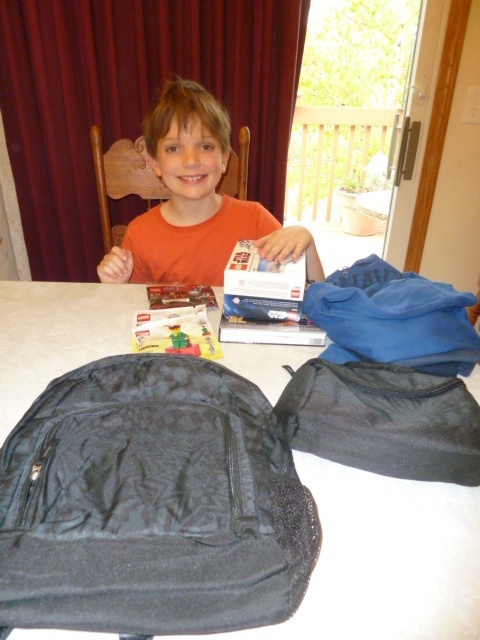 After breakfast, Steve and Paige headed off to basketball and the rest of us set off later to watch what would be Paige's second game of the day.  The game was held in Bismarck at Century High School and it turned out to be a very heated game of 11 year old girls' basketball. We were glued to our seats as the lead changed a number of times and came down to the last few minutes when Paige's team scored and won by a point!  Great game! 
We met (American) Steve's mum who came to watch the game and she gave Harris $5 for his birthday – thanks!  Harris added that money to the tooth fairy money in got the night before.  He'd had a wobbly tooth for a few weeks and it was starting to really bother him.  I was concerned that he was going to get a gum infection but luckily nature did its job and he went to bed with a loose tooth and woke to find it out and no longer in discomfort.  The tooth fairy brought him $5 as it had been awhile since she visited!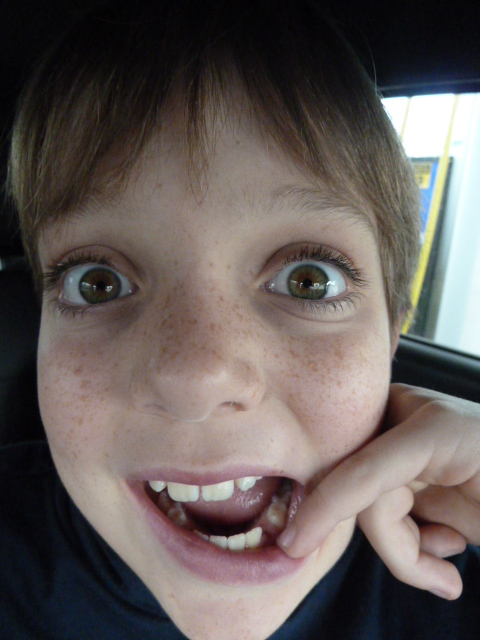 Back to the birthday and we returned to the house after the basketball game to have lunch.  Sandy, Tyler and I went to Walmart in the afternoon to grab some groceries and dropped in at the large Barnes and Nobles store to find Harris a gift. We had a quiet afternoon planning our upcoming drive back to Canada; the kids hung out watching Halloween cartoons and the day slipped away.  We enjoyed another delicious dinner that Sandy cooked for Harris.  At his request she made shepherd's pie for dinner and her legendary chocolate buttermilk cake.  Harris loved his new Simpson's comic and Mad Libs from the Tibke Family – thanks! He'd had a great birthday in America; not his first as he celebrated his 3rd birthday in Florida with friends seven years ago.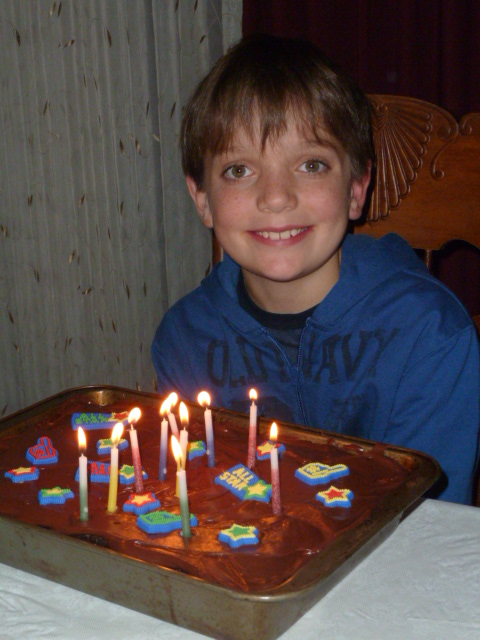 Sunday was not church day as the family attends services on a Wednesday. This meant we had a relaxing start to the day. Tyler was headed to a city two hours away to play basketball; Paige had another basketball game at 11 am and we had a haunted fort to visit in the afternoon. It turned out to be a busy day as there was an unexpected flat tyre that needed fixing too.  Paige's basketball team was up against another team from their own school; it was a very tough game and the outcome not in their favour but they sure played well.  We threw in a spot of Halloween costume shopping for Paige and other chores to pack out the day.  The Haunted Fort photos are featured in the Halloween post.
We had so much happening that I nearly forgot we made S'mores one night.  For all those reading that are not American, S'mores are an American favourite. Take some graham crackers, marshmallows and Hershey chocolate and make a sandwich with them basically after toasting the marshmallow.  The marshmallow melts the chocolate and … well, they are yummy!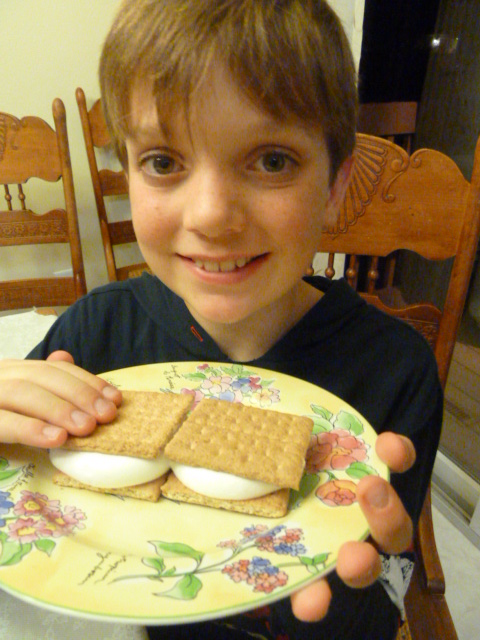 A special thanks to my friend Sandy and her wonderful family for hosting us in Mandan, North Dakota for 6 fun nights.  We really had a great time and I'm so happy my boys got to experience a fantastic Halloween with you all and Harris's birthday and you helped make Harris's birthday so memorable.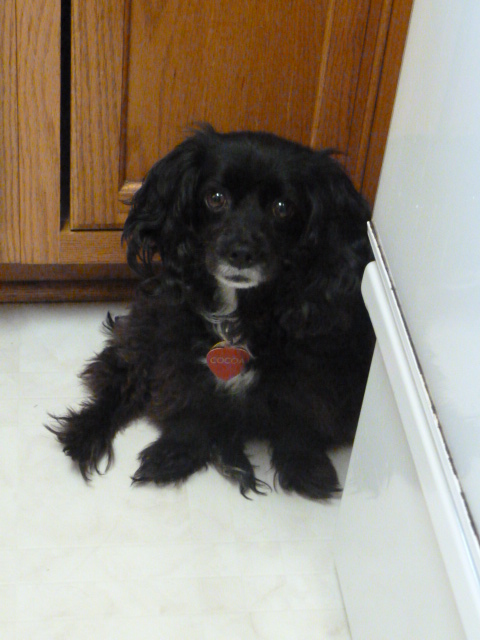 Thanks for being a wonderful house dog Cocoa.  It was just like being at home with our Karlee letting you in and out all the time and having you move in fast on the crumbs that hit the floor! 
Leave a comment