Days 48-54 Phu Quoc Island, Vietnam Part One (Photos finally!)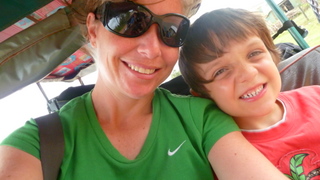 Our big adventure for the day – our first land border crossing from Cambodia to Vietnam.  The staff at 'Jasmine Valley' had organised transport to get us across to Ha Tien and the ferry terminal to Phu Quoc for $27.  We were picked up by a tuk-tuk driver and enjoyed a fabulous country drive for 45 minutes to the border. Along the way we saw salt farms; dry rice paddies, water buffalo and numerous small houses made from palm fronds.  When we got to the border we were greeted by our 'helper' that transferred our gear onto a motorbike whilst we walked across the 'zone'.  Had our passports stamped, moved to the health check area and had our temperature taken and then to the Vietnamese immigration to have our passport checked again.  Finally we were able to board a taxi and ride into Ha Tien.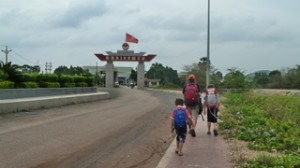 We needed 'dong' so we were told our 'helper' could get us to an ATM. Well his idea of an ATM was his mate's shop where you could exchange Cambodian real or $US for dong at a poorer rate so Steve insisted we find an ATM. Thank you Lonely Planet for listing one where we successfully got money. Our helper took us to his mate's ticket shop so we could buy ferry tickets. They wanted to charge us for 4 but with his insistence we paid for only 3.  We bumped into an English couple that we had seen at the border that were also heading to the island.
Next stop, ferry terminal. Here we waited for 1 ½ hours for the ferry. We got chatting with our fellow English travellers and discovered that he was Steve and she was Corinne, a midwife!  How unbelievable.  Harris and Patrick attracted 'a lot' of attention from the waiting ferry crowd and after about 50 photos we decided that was enough and moved them into the safety of 4 adults! The boat had a few hiccups getting started but eventually we were moving, the airconditioning flowing, a bottle of water and a wet tissue each and we hit the seas.
We arrived after about 2 1/1 hours and used our $2 bus tickets, purchased on the boat, to get us to our hotel 'Sea Star Resort' in Long Beach.  Upon arrival we found that they do not email if they are fully booked, so we didn't have a room after all! None of the other backpackers had accommodation booked so we continued on the bus to find a room. This is obviously the norm so the bus drivers continued down the road showing us different places to stay. We chose a $15/night room at 'The Lounge' which was on the same street as the $150 'La Veranda Resort' – maybe next time!
First on our agenda was to take our large pile of dirty clothes to the laundry across the street. 6.5 kg of washing at 15,000 dong per kilo – about $5 in total to wash our stinky clothes, worth every penny. Then off to the beach.  Just a short walk away from our accommodation is a lovely beach, even in the storm which bucketed on us the whole time we were there.  We could tell straight away that the beach was cleaner, healthier and overall a thousand times nicer than Sihanoukville.  The little strip of restaurants across the road served us dinner and another restaurant for pancakes for dessert. We all got an early night.  Steve and I chose the crappier of the mattresses and had springs poking us most of the night – boys can have that mattress tomorrow. More about Phu Quoc Island to come. We are here until Tuesday 29th March and then we fly to Can Tho in the Mekong Delta.
New adventure begins …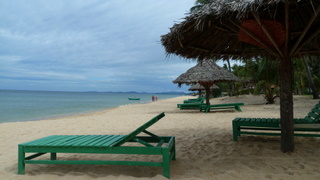 Leave a comment