Days 54-56 Can Tho, Mekong Delta, Vietnam
We flew from Phu Quoc Island to Can Tho on the mainland of Vietnam because $25 for a 1/2 hour flight each was way more appealing than a whole day of travel by taxi, ferry and bus!  The bonus which I hadn't considered was that we got a bird's eye view of the Mekong Delta region – the mass of rice paddy fields, orchards, streams and little villages was fantastic to see from the air.
We arrived at the very new and modern Can Tho International Airport and we greeted by a more than one taxi driver.  After much discussion about price and being told that the meter would be one and shouldn't be more than 150,000-180,000 VND, we headed into town to our hotel I had reserved online.  When we arrived safe and sound we paid the 145,000 VND fare and then the driver indicated to Steve that he had to pay 50,000 VND for a toll (we think!). Well, we did not see any toll booths or anything resembling such so thankfully the hotel doorman stepped in and assisted us by telling the taxi driver to ping off pretty much. Phew!  There may be a toll booth along that road one day as they are still building the split highway in and out of the airport, however at present the level of traffic is so low that on one side of the highway locals were drying their rice on tarps spread out across the road!
Our hotel, Kim Lan Hotel, was very nice after our rustic island accommodation and I must say it had the best shower we have had for a long time! In the last 4 weeks we have only had 3 other nights that did not involve sleeping under a mosquito net so this was a real treat as well; plus it also meant we had tv for the first time in as many weeks also.
Breakfast was again included and that was on the rooftop (8th floor) balcony. Had a great view of Can Tho, a city about the size of Toowoomba, which is based alongside the Can Tho River; and boasts a brand new bridge very similar to the Glebe Island Bridge in Sydney.
The main reason for visiting Can Tho was to see the famous floating markets. We organised a tour through Can Tho Tourist and arrived bright and early at 7.30 am to meet our guide. A lovely girl called Thao, a final year university student studying tourism, was our guide for the morning. She was very friendly, great with the kids and a real delight as a guide, plus we didn't have to share the tour with anyone else. We got on our boat and putted down the river towards the markets. Here are the photos! Each boat has a bamboo pole that sticks up into the air displaying what they are selling e.g. pineapple, yam, carrots etc so other vendors know where to head.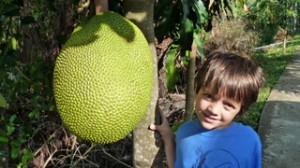 Our tour included a trip up a side creek to a fruit orchard where we walked around looking at fruit trees and sampled tropical fruit e.g mango, jackfruit etc. The most interesting part of the orchard was the deep moats throughout that were filled with fish. We came across one of the workers with a gadget on his back that was rigged up to two long paddles which he used in the water to electrocute fish!  The crazy thing was he was in the water too, totally unprotected from electrocution, with cords and water everywhere!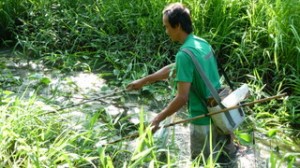 We ate at a little local restaurant for dinner and lunch for 10-20,000 VND (50 cents to $1) during our Can Tho stay however it did nasty things to my stomach this time. Unbelievably the boys have been incidence free!  We also enjoyed some local sweets when we discovered a cool little local food street - I choose to believe that the sweet I had was not in any way responsible for my tummy trouble!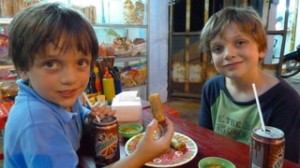 We enjoyed our short stay in pleasant Can Tho. Got ourselves a bus to Ho Chi Minh City on our last morning, which allowed us to see more of the Mekong Delta along the way.  We had a quick stop for lunch. The boys and I wanted a simple bowl of rice (com) for lunch.  This involved the confused waitress to call her manager who looked as if he understood our request but couldn't quite believe his ears.  This lead to a lady at the neighbouring table, with excellent English, to confirm to both of them that we wanted 3 bowls of com and one meat and vegie dish for Steve.  That was all my tummy felt like eating and all the boys wanted. So we got bowls of com at 3,000 VND each (9,000 VND = less than 50 cents).
We arrived into Ho Chi Minch City for our next adventure.
Leave a comment