Days 78-80 Halong Bay and Cat Ba Island, Vietnam
Our English speaking guide met us at our hotel in Hanoi and helped us out to the waiting minivan. The van was already quite full of people but we there was room to squeeze in 4 more with bags of course.  What a boring ride to Halong City.  The rice paddies are always a lovely site but the dirty, dingy, smoggy small towns along the way with a many industrial buildings and factories were just plan ugly; nothing made me want to swap the blue sky and green rolling hills that Highfields have to offer us back home.
We arrived in Halong City at the ferry terminal; along with a billion other travellers, all waiting to board their boats.  It started to sprinkle with rain so I decided we needed to relocate under cover. What a smart move because within minutes of finding a dry spot it started to pour with rain and people were scrambling everywhere to keep dry.  The rain finally settled down enough for groups to board boats and finally it was our turn. We boarded a small boat which took us to the larger boat – Halong Phoenix Cruiser.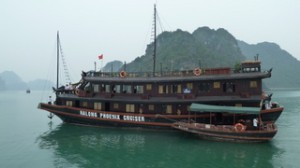 It was fantastic to finally board. We were greeted with our welcome drink of green tea and the guide organised berths.  We were supposed to have a room with a connecting door but ended up with rooms side by side instead. To make up for this the guide gave us our own table for four to dine at for lunch and dinner.  Which brings me to the food … it was unreal and never ending.  We were hungry but even so could not keep up with the 7 courses that came our way for lunch and dinner.  We ate as much as we could before being defeated! Breakfast was a more simple affair and our last lunch was a simple one course of meat, rice and vegies but equally as good.
Our Phoenix Cruiser boat headed out into the bay, alongside countless numbers of other boats big and small.  We hung out on the top deck which was a great place for the boys to play and run, which they needed after 4 hours of travel.  The view, whilst a little foggy or smoggy, was still spectacular; even if we had to share it with so many other boats; part of the charm. 
 Our first stop was an island to see a system of caves.  I'd read about them prior to visiting and learnt that with the increase in tourists and 'enhanced lighting' within the caves, the poor old wildlife that once called the caves home have  basically abandoned the caves altogether.  It is not difficult to see why when hundreds of people filed through it during our short time there and the cave system is lit up like a Christmas tree!
Next, we were told that the weather was not good for kayaking; even though it looked as flat as a tack out on the water to us.  This led to tears and great disappointment for one 9 year old.  Then within the hour we arrived at the kayak jetty in the bay and were told we could kayak!  Steve and Harris took to a kayak and Patrick and I shared one.  It was great fun exploring two caves and circling back to the boat.  My arms got a workout as I was paddling for two; although I don't know how much of a help or hindrance Harris was for Steve in their kayak!
The other people on our boat were from Australia, Hong Kong via Germany, Austria, England and USA and we all got talking together. We now have a great list of 'must see' places in Europe to visit, thanks to their enthusiastic suggestions, plus some friends to meet up with in Hong Kong. 
The four of us got an early night on the boat after such an early start and lots of travel. We slept well for our first night ever sleeping on a boat as a family.  The second day begun with a rooftop view of the bay; breakfast and sitting and chatting with our fellow travellers.  Seven of us were extending our Halong Bay experience with a night on Cat Ba Island so we were moved onto a smaller boat to get to the island.  Upon arriving at the island we boarded a minivan to head to our next destination; another boat ride to another cave for another walk!  Before this we stopped for lunch at a quirky little restaurant overlooking a fish farm.  The food again was very good and we enjoyed chatting with our new friends.
The next cave we went was also well lit but only when the guides started the generator; maybe the critters in the cave were able to live with a little harmony.  It was a good size cave system and we were the only group in it which was nice.  Finally we headed to Cat Ba Town and were taken to our hotel. We ended up with two hotel rooms side by side. The boys spent the afternoon chilling out watching Disney Channel whilst Steve and I enjoyed the peace and quiet watching our own tv!  We never made it to Cat Ba beaches but heard reports that they were pleasant – maybe next time.
We headed down the main street along the water and into the market so that the boys could have a run.  The main street is lined with restaurants and it was a hard choice to pick one. Finally we settled on a place that had a couple of other groups in it.  We thought we would have a cheap dinner but ended up buying a whole fresh live fish that Steve picked out of the tank!  When it arrived it was quite a spectacle and tasted great; although we are clueless whether it was 'our' fish or not!  We spent more money than we had intended but our whole dinner, with drinks, cost about $15 Australia. Try and even buy a fish for that price in Australia!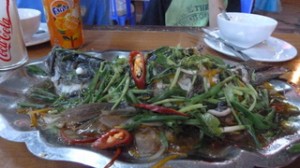 The next day was Easter Sunday.  How that Easter bunny found the boys on Cat Ba Island, Vietnam we will never know?!
After a first course of Easter eggs we enjoyed our buffet breakfast on the restaurant terrace overlooking Cat Ba Town and port.  We were then shuffled onto the minivan; drove across the island and got on another boat to go back to the large cruiser. The cruiser took us back to Halong City where we got back on the minivan and headed back to Hanoi. The end of our Halong Bay experience and many boat and bus rides later. We were blessed with great weather and not too much fog and smog during our trip and would rate Halong Bay as being worthy of a visit if the weather behaves itself.
Leave a comment