Days 81-84 in Sapa, Vietnam
To get to Sapa you take a sleeper bus or a train. Most tourists spend one night on the train, one night in Sapa and one night back on the train.  We were adding an extra night in Sapa to extend the journey a little. We caught the night train from Hanoi to Lao Cai, which is a one hour drive from Sapa. The first adventure was trying to 'cash in' our voucher for the actual train tickets. I went to three different ticket windows in three different buildings before being told to wait 20 minutes and come back to the young lady. I watched other people to see what they were doing and saw a couple with a guide with the same voucher we had. The guide then returned with tickets so I asked them. The guide told me to go back to the 2nd ticket window and get my tickets there. This I did and returned with our four tickets!
We had no idea when to board the train because the announcements were in Vietnamese. We decided just to follow the crowd and they let us through. When then walked across 4 train tracks to get to our train; found our carriage and then our 4 bed berth. Hooray.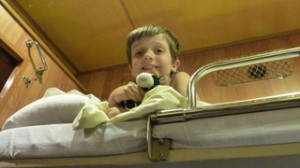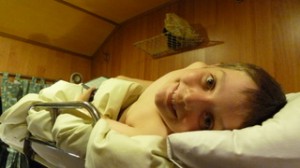 The train left about 9 pm and we got ourselves settled down for the night. We were woken abruptly by a knock on the door at 4.45am! We were met by our young English-speaking guide Don at the front of the station and he took us across the road to a local restaurant for a basic Westernised breakfast. Then we bundled into a nice van big enough for twice as many people and headed off for a 1 1/2 hour drive to the Tuesday market in Coc Ly.
Again I had to grin and bear the road to the market and our driver was a good driver.  He could see my face in his view vision mirror and obviously adjusted his driving to my reactions! In all the roads we have travelled thus far I have not seen so much pedestrian traffic.  There were people in traditional dress walking along the main road everywhere with children and baskets on their backs; carrying goods and herding buffalo to market.
When we got to the market it was still setting up for the day. Many of the buffalo had quite a distance to walk before they could meet up with their friends to be bought and sold. 
Some of the market was locals selling wares and food but many of the stalls were specifically for the tourists that visit the weekly market.  Many more tourists arrived as we were leaving.  We left having bought the boys a leather wrist band each that they had spotted for $2 each.
Next stop, boat ride.  Boat ride and 2 hours doesn't always sound great with two boys but this one down the Coc Ly River was most enjoyable.  Large cliff faces with waterfalls and tiered rice paddies lined the river .  We watched locals in the fields plowing and sand dredging of the river as we went along. The only thing that would have made it perfect – if the boat didn't have an engine that buzzed and disturbed the peace.
Boat ride done then a minivan ride to Sapa – what a spectacular drive.  No photo can capture just how amazing the mountains and tiered rice paddies are – or maybe just not my photos! 
We arrived in Sapa to check into the 'Holiday Sapa' Hotel. Before we could get it into the hotel lobby we had to make it past the welcoming committee of H'mong women in traditional dress trying to sell us 'stuff'.  Our room had a balcony and fantastic view to enjoy.  Lunch at the 'Fansipan' restaurant followed with a delicious set menu and then we had the afternoon to explore Sapa.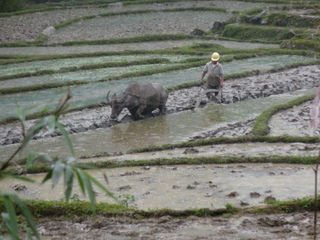 During our time in Sapa we got out and about with our guide on a couple of hikes. First hike was to Cat Cat Waterfall on a very warm and sunny Sapa day.  At the waterfall we paid 80,000 VND ($4) to watch a local musical performance – it was great and well worth the tiny price for a private concert of H'mong music and dancing.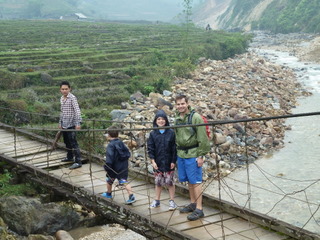 Our second hike the next day was to Lao Chai village.  The weather was overcast, drizzly and cool which made the hike enjoyable.  Water just pours out of the hills in this area and with the additional drizzle we had to dodge puddles. Predictably the puddles couldn't be avoided forever and Patrick was the first to land in the mud. We needed to wash off a muddy kid so our guide led us into the local school.  With Patrick washed off we had the opportunity to watch the preschool aged children singing and dancing in their classroom.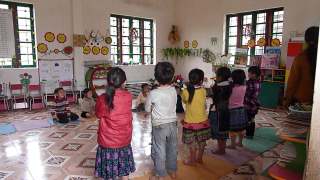 After our hike we had to get back to our room to shower quickly and check out of our hotel at 12 pm.  We made the deadline and then had lunch at another restaurant with a set menu as part of our tour. We had 5 hours to fill in before we were to drive to Lao Cai to get the night train back to Hanoi. We found two different coffee shops in that time to sit, relax, read, play cards and enjoy the view and keep warm because it was really cool outside; plus anytime we set foot onto the street in Sapa we got overwhelmed by H'mong women trying to sell us things.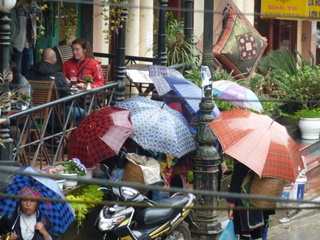 At 5pm we headed off to Lao Cai.  Again I had to keep my head down reading the Kindle to keep my mind off the road. The pedestrians on the road were plentiful and I was really concerned that someone would be hit by either our van or something coming the other direction … but the most scary thing was when we saw young boys sitting on skateboards going down the main road dodging the buffalos, cars, trucks, motorbikes etc!
Arrival in Lao Cai and dinner at the same place we'd had breakfast the first morning.  We then headed to the train station but not before the minivan driver returned to give us the jacket Harris had left on the van – Thank you! 
We got settled in our carriage for the night and played a few games of cards.  We were all keen for an early night since we knew we would have a very early wakeup call in the morning when we would arrive in Hanoi.  At 4 am we arrived in Hanoi!  The was a crowd of dodgy taxi drivers waiting to take us to our hotel. We dodged them all and walked down the street with two half awake whinging children and all our bags.  We got in what we thought might be a reliable taxi and with the business card of the hotel in hand we showed him where we needed to go …
Maybe his downcast eyes should have told me not to trust him.  Lucky we had been in Hanoi long enough to know where we needed to go, plus we had a map in hand.  He took us on a detour past another hotel, often a ploy to get you to stay in a hotel they get a kickback from.  He got the message very loudly and clearly that we were not happy and he'd better take us to our hotel this instant as his English comprehension was very good!  He arrived at our hotel and whilst the boys and I got ourselves and the bags out, Steve was 'locked' in the front seat.  We told him we weren't going to pay the full fare because of his dishonesty. He grumbled but let Steve out obviously realising that we weren't budging.  What a start to the day.
We were back at the same hotel that we have used as our base in Hanoi. They had a room ready for us so we all went straight back to bed. The boys woke earlier than us and watched cartoons. I stirred at midday! 
So that was the end of our Sapa side-trip.  We were really lucky to have such great weather whilst we were there and to be able to see the view!  Sapa is a beautiful spot and one of our favourites in Vietnam and we'd highly recommend it to families.  It was a pleasure to be woken up by the sound of a rooster rather than the honk of a horn!  Holiday Sapa Hotel is one of the better hotels in Sapa but could certainly do with an upgrade.  Credit to them for their fresh pancakes at breakfast!
Leave a comment