Days 86-88 in Tam Coc and Cuc Phuong National Park, Vietnam (Part One)
Our last little adventure in Vietnam was to travel from Hanoi, south to Tam Coc and Coc Phuong National Park. After another hotel breakfast and having packed up our bags we were picked up at our hotel by the tour driver and guide. Our guide was a young guy called Jery Tom. He introduced himself as Tom and Jerry, as in the cartoon cat and mouse, and told us that his mother had been a fan of the cartoon when he was born.  We didn't truly believe that was his name until he gave us his business card in case we needed to call him and that really was his name!  Regardless of his namesake he was great guide and kept calling us VIPs.  He really did a good job looking after us over the three days.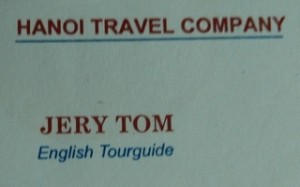 We knew this was going to be a busy weekend wherever we were going to be in Vietnam as it is Labour Day weekend in many countries and in Vietnam they were celebrating Reunification.  So, when we set off for a weekend in Tam Coc and Coc Phuong National Park we knew it would be busy.  We travelled with ½ of Hanoi's population heading south along the national highway; a two lane road that is riddled with potholes.  Of course it was never two lanes of traffic and I think at one stage I counted 8 lanes of traffic – 3 cars widths and 5 motorbikes wide!  We passed many small bingles along the way but because the traffic wasn't moving very fast the accidents weren't serious.
We had a quick pitstop along the way at a roadside stall where numerous buses and private car tours stopped. I mentioned to Steve that the state of the toilets was less than desirable. He didn't agree with me and I said when you use a urinal you don't get the full experience; and just in case it hasn't been mentioned elsewhere, Steve has no sense of smell – sometimes a very welcome attribute in Asia. Well not long after our conversation, the call of nature called to Steve.  He returned to the toilets.  He returned equally as quickly and I asked if the stalls were all full. His reply – there were only two stalls and the first one had a man squatting on the toilet seat with the door open!  That was enough for him to decide that he could 'hold on'.
Finally we arrived in Tam Coc for lunch at a very large restaurant for tourist groups. We were given a set menu which included the local speciality – grilled goat!  I am not 100% sure if we actually did eat grilled goat.  It did taste a little gamey but whatever it was it tasted pretty good.  The boys had a small whinge about goat being on the set menu but were soon tucking into their grilled goat kebabs.  Didn't think I would ever utter the words
 "Good goat eating guys!"
After lunch we headed down to the Tam Coc Wharf, along with a thousand of our closest Vietnamese and Western tourist friends for a ride down the local river.  I had seen beautiful photos of the same spot with a couple of boats leisurely ambling down the river. This did not look quite the same on a holiday weekend. There must have 250+ boats on that river at any one time.  They call Tam Coc – 'Halong Bay in the Rice Paddies' and certainly today it lived up to the same reputation with being overrun by tourists and boats. Even so it was quite spectacular.
One rule for tourists and one rule for locals – quite common throughout Asia.  Only two foreign tourists to a boat meant they get more money out of you whilst the locals can cram 5 or 6 in a boat. Harris and I sat in one boat and Patrick and Steve in the other.  Off we went.  Apart from the people watching along the way, the view of the limestone karst mountains was what we had come to see.  Harris and I even spotted two mountain goats high on a cliff – what an amazing feat on the sheer cliff face.
Many of the boat rowers use their hands to initially get going and then resort to laying back on a support and using their feet and legs to row; which is what our rower did.  He rowed us down the river passing rice paddies and spectacular karsts mountains along the way. We passed through three large grottoes which were a relief to be in as they offered a temporary escape from the heat and humidity.   At the turn around point I was prepared for the waiting onslaught of women in boats and their mobile market.  The woman that approached our boat was very pushy wanting me to  buy something for 'bebe' (Harris) and then strongly suggested that I buy for the driver!  Of course I gave a very strong 'No' back and the rower pushed on back through the grottoes.
Now I had also been watching along the way and noticed that a number of rowers were opening silver boxes in the middle of the boats and trying to get tourists to buy wares e.g. t-shirts and handicrafts.  Yep, we had a silver box on board and soon enough I heard 'Madam, Madam' and turned around to see him showing me a lovely sample of something that I had no interested in buying and actually don't even recall what it was.  Again, I said 'No'.  Funny that all of a sudden our leisurely boat ride down the river became a race to get this Western woman off the boat so he could pick up some other tourists that might buy something!  I did give him a small tip of 20,000 VND ($1). By the time we got back to the wharf however, my main issue was finding a loo.  Something I had ingested was giving me a bad time and I had a one track mind.
We found Steve and Patrick and Tom and Jerry and headed back to the restaurant so I could use the loo. It was then that we decided that a further excursion to a pagoda might not be the best idea so we headed to our hotel – the 2 star 'The Long Hotel' just down the road.  We checked in and climbed the stairs to the 4thfloor. Thank God they helped carry our bags.  Nobody was interested in doing very much so the afternoon was spent listening to music; reading; ripping new CDs onto the computer and playing Connect 4.
Finally we ventured out of our room to take in the view again and check out the town as the day trippers had all evacuated and some kind of peace had returned to Tam Coc.  We had a mediocre dinner at the hotel restaurant and headed to bed. Finally the loud music blasting from the local loud speaker also ceased and we could attempt to sleep.
Leave a comment