Days 86-88 in Tam Coc and Cuc Phuong National Park, Vietnam (Part Two)
We woke in the morning and found our way to the breakfast area and had a less than mediocre breakfast – really it was dismal.  When you encourage your children to eat the fresh hot chips/French fries for breakfast as the best option that certainly sends a message about the quality of the food on offer!
We checked out gladly. Our guide took us to see a pagoda on a hill.  This pagoda is supposedly the centre of Buddhism in Vietnam, so maybe it is very special to those people in Vietnam that are Buddhist but to a family of four from Australia who have spent 5 ½ weeks in Vietnam, it really was just another pagoda.  To get up to the top you had to dodge the elderly ladies selling replica row boats for 'bebe' before climbing a good number of stairs to reach three different cavernous rooms.  At the top we were greeted by the son of a Vietnam War veteran wanted to offer us a special coin for a price. We politely declined and promptly turned around and headed down the hill again.
Next stop we headed to the old capital of Vietnam, prior to Hanoi taking over in 1010.  Hanoi celebrated 1000 years as the capital of Vietnam last year. By now it was stinking hot and the sweat was dripping off us just standing still in the shade.  Our guide was keen to share every detail of his knowledge about the old capital. I sure it was fascinating stuff but we quickly indicated that our children really didn't appreciate history as much as we did so it was perhaps best to cut our tour short! Without children and without the heat it would have made for an interesting excursion.
Back to the airconditioned car and we headed to Coc Phuong National Park.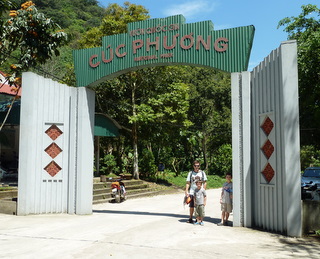 We enjoyed a nice lunch in the 'best restaurant in Coc Phuong' – only restaurant I would say!  I am sure every restaurant we have gone to that offers a set menu must think that Westerners are meat-a-tarians.  We seem to be offered an abundance of meat dominated dishes.  I requested more vegies for dinner and our request was answered.  Our rooms at the national park accommodation were basic but comfortable enough. I kindly suggested to the guide that going on a 6 km trek straight after lunch in the middle of the day was not perhaps the best idea – children need a rest you know!
We escaped to our rooms and the airconditioning until a more appropriate time of day.  At 2 pm we assembled at the car for the drive to the hiking destination.  When we arrived we could see that the trail was going to be busy.  There were a tonne of Vietnamese tourists everywhere. We were hiking to see the '1000 Year Old Tree' – I am not sure if that age has been verified or not but I guess it sounds better than hiking to the 'Very Old Tree; or 'Very Big Tree Whose Age We Don't Really Know' 
Ok, we headed off.  The trail wasn't difficult and the boys wearing Crocs were more than capable of handling the terrain. It was a little slippery but not impossible.  One of the main attractions along the trail was actually the people watching.  Groups of Vietnamese people wearing slip on plastic shoes; ladies in sequined high heels and platform thongs and men carrying their take away beer, all heading to see an old tree.  When we arrived it was like a party. People everywhere, stepping over the chain fence to stand beside the tree for a photo, before returning to their picnics and alcohol. The locals then turned their attention to our children.  Harris and Patrick now star in the photos of some unknown, never to be seen again, Vietnamese people (once again).
We completed a hike and reward ourselves with showers and dinner. As mentioned we got more vegies and even some tofu this time!
The national park came with its share of mosquitoes so Steve rigged up the nets that were in the rooms.  I certainly hadn't missed sleeping under mosquito nets. I think Patrick was the only one of us that got a good night's sleep that night.  Breakfast was the standard Western/Asian breakfast of baguette, jam and fried egg. We delivered 4 baguettes.  I ascertained within seconds that 3 of them were as hard as rocks. After this long in Asia I don't tolerate stale bread.  Vietnamese people know a fresh baguette from a let's-palm-this-off-on-the-Westerners baguette.  Tom and Jery came in handy in explaining that we would like fresh baguettes please. Amazing how suddenly fresh bread can appear!  Fresh baguettes with strawberry jam were yum.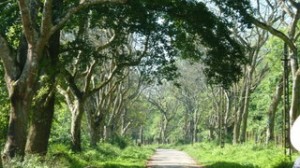 Our only stop today was to visit the Primate and Turtle Conservation Centres, just a short walk from the accommodation.  The langurs and gibbons were a fantastic sight.  The langurs have amazingly long tails and the gibbons 'sing' very loudly. We watched a family of 4 gibbons – mum, dad and two children.  They came to represent our family and certainly the smallest of the gibbons was just like our youngest – bouncing off the walls. Patrick would swing off the rafters if he could!  At turtle sanctuary we saw terrestrial, semi-aquatic and aquatic turtles. It was fun spotting the land turtles in their enclosures because many of them were well camouflaged.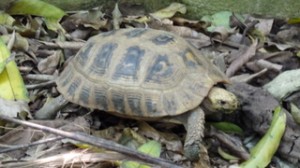 Back in the car, lunch on the way and we made it back to Hanoi in ½ the time compared to our trip south.  We hid in the hotel airconditioning for a couple of hours before venturing outside again. It was still stinking hot outside still at 4pm but we stuck to the shade and found ourselves walking down some new streets. We came across a food market in one street where the locals were buying up for dinner.  Before I could avert my gaze it fell to a softshell turtle that found its way onto a chopping block and … wham, off with it's head!  Just like that.  I was a little taken back after all that very morning we had been admiring the cute turtles at a conservation centre.  Then the same afternoon watching the blood of a freshly chopped turtle being drained into a plastic water bottle and promptly being sold to a lady who didn't even get off her motorbike! Something new every day!
What do you do after that sort of experience?  You head to Highlands Coffee, our favourite spot to watch traffic and drink coffee. We all enjoyed a drink and played some cards before heading to our favourite dinner restaurant – New Day Restaurant in Ma May Street. 
We got our favourite table upstairs away from the noisy crowded table settings below.  Upstair tables are low and you sit on the floor on bamboo square mats – just right for playing cards whilst waiting for our favourite foods – duck in orange sauce, grilled aubergine, mushrooms, tofu and rice.  We celebrated our last day in Vietnam and reminisced about our favourite places, foods and adventures.
We have enjoyed our nearly 6 weeks in Vietnam but are looking forward to our next stop - Hong Kong.  We are all pumped to fly out to Hong Kong on the 3rd May; somewhere new and exciting.  We have a week booked in Hong Kong which will give us a chance to sort out washing, travel arrangements, money, bookings and a chance to send a parcel home.
I am extremely keen to send a parcel home to lighten our bags and cull the things we don't need. Considering we have spent nearly 12 weeks in Asia so far; the bargain shopping capital of the world; we have bought very little but have enough items that we would like to shed e.g. cooking books and utensils from the cooking classes I have done; ditch the Lonely Planet guides that we no longer need; send a few gifts home for those that have had birthdays and send back some of the kid's school workbooks as proof of our schooling efforts. I have bought a handful of small souvenirs that I intend to hang on the Christmas tree in the future but overall we haven't stocked up on 'Tintin in Vietnam' t-shirts, conical hats and knock off clothing etc that are so readily available.
We have bought a few items of clothing each along the way including the bargain jackets for the boys that I got at the second hand jacket market in Dalat – $5 for two!  Steve got some bargain clothes in HCMC and Harris his cool Converse sneakers in Hanoi.  A few items made in Hoi An; a few books from here and there; some knock off CDs and DVDs; shopping for necessities e.g. Vaseline and shampoo  …   and really that is about it for spending – all considerably less than what we would have paid for them in Australia!
So long Vietnam.
Leave a comment