Days 90-93 Hanging out in Hong Kong (Part One)
Steve and I spent one week in HK two years ago so it was great to return to somewhere familiar and to be able to rest after our busy 6 weeks in Vietnam. The two bedroom flat we stayed in was a fantastic base for the week, complete with washing machine and mini kitchen.  I even cooked!  We had home-made spag bolg and mac'n'cheese plus I could have my favourite porridge every morning for breakfast whilst the boys had cereal and toast again.  I think we washed clothes every day, just because we could!
We were located in Sheung Wan on the HK Island side of HK in the Dried Seafood Street!  This was an interesting location and we certainly saw and smelt our fair share of dried seafood and discovered the local shopkeepers don't like you taking photos of their wares – maybe that large shark fin in the window is illegal!  There are certainly an abundance of dried sea cucumbers, fish, starfish and other unknown things that would be better off in the ocean – really how many shops do you need to sell these things and do they really improve virility?
One day I looked out the flat window and saw the mist had cleared from the large hill behind us so we raced off to get to the Peak Tram and headed to Victoria Peak.  We easily found the 3 ½ km loop walk that takes you around the peak and enjoyed the view; ate a picnic along the way and rewarded the boys with McDonald's ice cream sundaes at the end ($6 HK = 75 cents Australian). 
That same day we went to the Kowloon side and the boys found a cool park to play in and met some other kids to hang with.  I needed to find myself new shoes after an incident on the Star Ferry – where my favourite sandals were bent back on the ramp heading to the ferry and totally snapped.  The strap and sole were separated and I couldn't walk around without one shoe flapping.  I found a mall with an information booth and asked for some sticky tape to fix them temporarily before I found some thongs to buy, the cheapest footwear available.  We met up for dinner that evening at Cafe De Coral, a cheap chain restaurant which offers really good value meals.  Just before 8pm we found ourselves a spot along the harbour for the nightly laser light show.  It really is well done and the boys enjoyed the experience.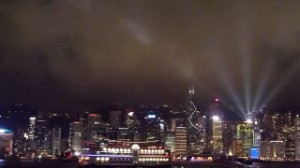 Harris and I had a mum and son day out one day so the kids could have a break from each other.  Just like at home, one kid on their own is great, two together = fights and whinging!  That day Steve and Patrick headed off together to ride the tram line to the end of HK Island.  Harris and I found the post office, chemist, bookstore, movies, supermarket and new running shoes. We saw 'Thor' which was actually really cool.  As a mother of two boys I am getting accustomed to watching 'boy' movies and rarely watch a chick flick these days. We met up with Steve and Patrick at Fairwood, another chain restaurant with good cheap food.  We ate dinner for about $160 HK – $20 AUD; comparable to buying all the groceries required to cook a meal.  Part Two …
Leave a comment