Days 94-97 Hong Kong (Part Two)
I had my first Mother's Day in another country and woke on Sunday morning to a card and chocolates.
I had the opportunity to go out for a few hours of peaceful shopping and found a coffee shop to sit and read the paper and my new book on Taiwan.  Bliss! That same day we met up with Karin and Edward, a couple we met on the Halong Bag, Vietnam cruise; so we could hike Dragon's Back, one of the premier HK hikes.
The hike and the great company were a highlight of our time in HK and we are forever grateful for Karin and Edward's generosity and hospitality.  We arrived at their flat at 2.30 pm so we hike in the cool of the afternoon.  A taxi ride to Shek 'O was required to start the hike and because there were 6 of us and Floyd, the large borrowed dog, we needed two taxis.  Karin and I went with Floyd in one taxi.  Floyd is well trained but when he became disobedient and didn't want to lie down in the taxi, Karin decided he was car sick. Sure enough with seconds to spare the taxi pulled over for Floyd the dog to … vomit. Needless to say he was a great deal happier when he returned to the taxi for the remaining ride.
We met up with the Ed, Steve and kids and started off hiking.  The view along the way was magnificent and the kids barely uttered a whinge; which is certainly an indicator of how easy and enjoyable the hike is. Where are Karina and Ed?  I'm waiting for their email with great photos to have a good one of them in it!
At the top we celebrated with food and got out the $2 kite we had bought at Toys'R'Us.  It worked well for a cheap plastic kite.  There were a good number of other hikers on the trail including two cute babies in backpacks – Ross the HK baby and Barney the gorgeous and well rounded baby from Guildford in the UK. He was a hefty little man with a great chuckle!
After hiking we headed to Stanley, the haven for all HK expats on a Sunday afternoon.  The street is closed off to cars so kids scoot, skate and run everywhere. Our boys joined in playing with whoever was around and spoke English.  We sat and toasted our great hiking with a glass of wine.  The boys enjoyed some home-made ice-cream and attempted to take Floyd for a walk. It is quite obvious that he wasn't interested!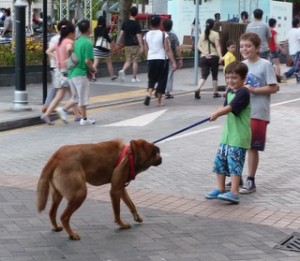 We returned to Karin and Ed's place for a BBQ that evening and before we knew it, it was past midnight! Little did we know at that time that we would meet again the very next evening to reclaim the iPod cable we had left behind. The early bedtime we had planned for that night didn't happen either and we saw the clock pass midnight once more!  The wine and conversation flowed easily.  Thank you Karin and Ed for a wonderful time in HK and we would love you to visit us sometime soon. Better practice our BBQ skills and grow some organic vegies for you!
Our second last day in HK and we were on a mission for dim sum. Two years ago we missed out on dim sum so we were determined not to miss it again. Well, we walked for ages trying to find the 'right' place. We passed two places that didn't come up to scratch and by the time we finally found the third place it was a desperate measure to placate two tired, hot whinging children and two equally 'had it' parents.  The dim sum was ok but certainly I wouldn't rave about it.  It filled our bellies and for a large sum of money – we have eaten better since. Dim Sum – ho hum!
Last day in HK was Buddha's Birthday and a public holiday. It was also the Cheung Chau Bun Festival Day. 
Two years ago Steve and I went to the parade and loved it so I thought the boys might like to see it this year since we were around at the right time. We caught the ferry to Cheung Chau Island and arrived in the heat of the day; which we later learnt was the hottest day of the year so far!  The sweat was dripping down our backs and the water spray bottle I bought for the occasion got a workout.  The parade starts at 2pm and goes for a full 2 hours with each island being represented by flags, a lion and children in costume that appear to be holding another child in the air.  A truly amazing parade to see but by the time we had seen the bun towers and some of the parade preparation and children in costume, the kids had had their share of the heat and crowds. We tried desperately to find Steve a 'bun' to eat but there were none to be seen and one shop lady told us they would be on sale at 3pm.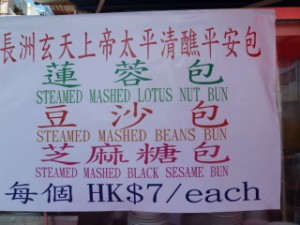 Last time we were here there were buns being sold everywhere – we read in the newspaper the next day that there were only 2 official bun sellers allowed on the day due to new health regulations. The bun towers are for climbing by the way and at midnight on the last day of the festival the finals take place where the best of the best climb to get the highest bun for the highest score!
Poor Steve missed out on his bun. We returned to our flat, via McDonald's and their cheap ice-cream sundaes, and packed up our stuff for an early flight to Taipei.
That was HK.  It really is a great city for families and for us it was a great place to have a breather. There are many things that we didn't do that are popular for kids e.g. Disneyland and Ocean Park but we are saving Disney for Florida; the boys have been to two water parks and we will see Giant Pandas somewhere else in China no doubt.  I would thoroughly recommend the flat we rented and its location.  Please email if you would like the details of how to contact the owner to rent the flat. I had great intentions of taking photos of the flat but the only time it looked neat was when we arrived and when we left. That is to be expected when four people live in a small space and our washing was hung in any available place so it could dry! Maybe next time we go there we will remember to take a photo. Off to Taipei, Taiwan.
Leave a comment