Days 68-71 in Hoi An, Vietnam
Hoi An – what a quaint little place to spend a few days. The boys were most excited to discover that our hotel for the next 3 nights had a pool right outside our room. Their first priority upon arrival was to swim and refresh after our Marble Mountain walk and car journey.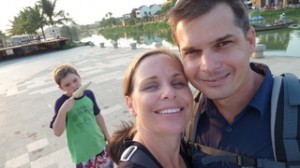 Then it was time to walk the streets of Hoi An. First stop, a tailor shop recommended by the hotel to have a pair of long pants made for Steve and I ordered two pairs of shorts – 3 garments for $40 and ready in less than 24 hours (well they weren't actually ready in that time because they needed adjusting).  They were an ok make and fit but I certainly didn't need to go crazy and have a whole wardrobe made. 

What else do you do in Hoi An?  Well we ate out our first night in a restaurant overlooking the river.  We got sucked in by 'Happy Hour' drinks and stayed for dinner.  Steve however suffered the next day and the next …. and spent his time in Hoi An in a poolside lounge watching children swim.  I ventured out to do a Vietnamese cooking class. Tripadvisor reviews indicated the 'Morning Glory' class was the one to do – and it was fantastic. We made spring rolls, cabbage soup, Vietnamese pancake, chicken kebab and mango salad.  I was so full when I walked out of the class. 
We enjoyed a quiet little stop in Hoi An.  Patrick was in Hoi An with us but am still trying to find a good photo of him to post! Left without buying a lantern – although if I was going straight home I would have bought a collection of them!  Next time … onto Hue.
Leave a comment