Habla Espanol?
For those of you that know Spanish, you will know I should have added an upside question mark at the front of the above question!  But my English keyboard doesn't allow me to do that easily and frankly I can't be bothered working that out right now because I just want to write a quick note about my 2 weeks of Spanish lessons.  My interest in the Spanish language began when I lived in USA in 1993 for the year.  I studied Spanish 101 at Medina High School in Ohio and loved it.  I have thought of picking up my Spanish language studies numerous times and this year looked like a good time to do it.
I attended the Enforex language school in Marbella; there are numerous centres in Spain and other countries.  I chose this school because it was in Marbella; close to the beach for Steve to keep the boys busy for 2 weeks; plus not as big as sister schools insome of the larger known Spanish cities.  The school is listed on the Don Quixote school website; they all seem to have a good reputation. I did choose well because my two weeks at Enforex were fantastic.
I learnt a lot (I think) and I can certainly read, write and understand spoken Spanish significantly better than I could when we arrived in Spain.  The speaking part of things is perhaps the hardest but it is coming along and we plan to continue our studies as a family in whatever way we can when we return to Australia. 
Here are some photos of my fellow classmates Inessa from Russia; Claudia from England via Germany and the rest of the world; Saskia from Germany; Maria from Japan; Salim from France; Leanne from Ireland; Debbie from Holland; Norbett from Germany and missing Michelle from England, Ana and Lilly from Sweden. Thanks for being such great classmates.  We shared a lot of laughs.
Here is Susana, one of my three amazing profesorias! What a trabajodora! Ana and Raquel are not photographed but will not be forgotten.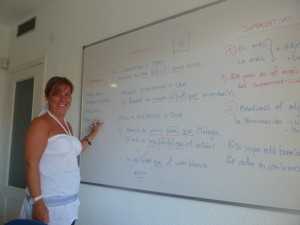 I would highly recommend the school to anyone contemplating learning Spanish.  There is no room for slacking off so don't think for a moment it was a 'holiday'.  It required effort, homework and study at night to keep on top of what we had been learning and you really couldn't afford to miss a day.  My only regret is that I could not stay longer.  I will have very fond memories of my time in Spain thanks to the 2 weeks at Enforex.
P.S.  Enforex did not pay me to say all these nice words!
No comments yet.
Leave a comment