Hanging out in Ohio
No, we haven't dropped off the face of the Earth, we just have been hanging out in Ohio for the last 11 days.  What have we been up to you ask?  Well, catching up with many of my friends and 'family' from my Rotary exchange student days and enjoying the lead up to Christmas.  Check out our photos …
We stayed 5 wonderful nights with our friends Jim and Sara and their gorgeous girls Madelyn and Elena. The kids really enjoyed each other's company and got along amazing well.  There was great disappointed when we left, so we thought we'd better return towards the end of our stay in Ohio so we could all hang out again. We also got to watch the movie, 'The Christmas Story', which is an iconic American Christmas movie that is replayed on tv numerous times during December.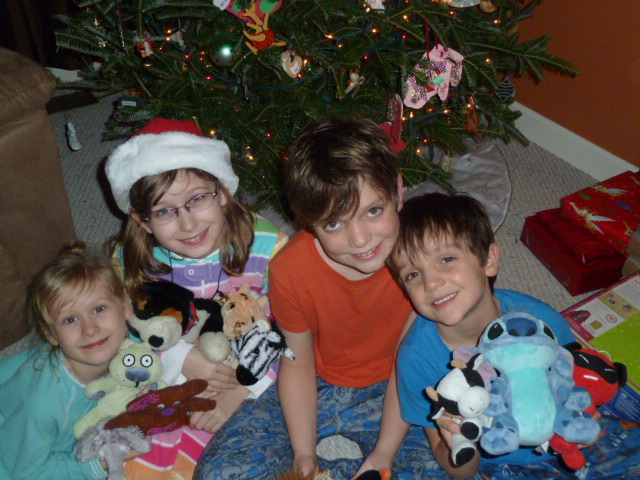 We had dinner and drinks with our friends Ellen and Larry and their handsome lads Vince and Evan.  Again the boys enjoyed hanging out with other kids.  I'm sure Ellen and I agree that 2 boys are enough for each of us! Hope to see them in January for a Cleveland Caveliers basketball game.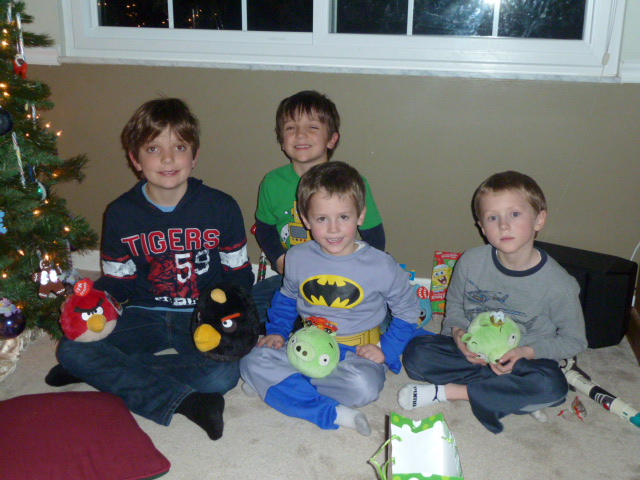 Jalapeno popper cheese dip, drinks and delicious home made chocolates were on the menu when we had lunch with my friend Amy,husband Nick, and all-grown up daughter Dylanne.  Thanks guys!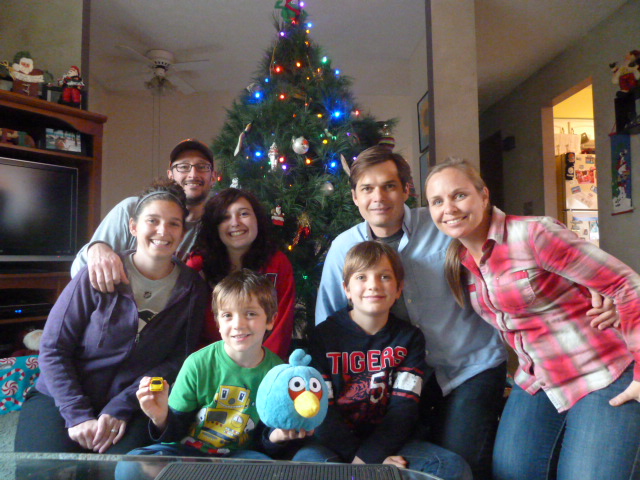 Dinner with the Muller Family was a special occasion as we got to meet three generations of Betsy's family.  Thank you for such a lovely evening and I have already started reading Betsy's book 'The Energy Makeover'; so far it gets a big thumbs up!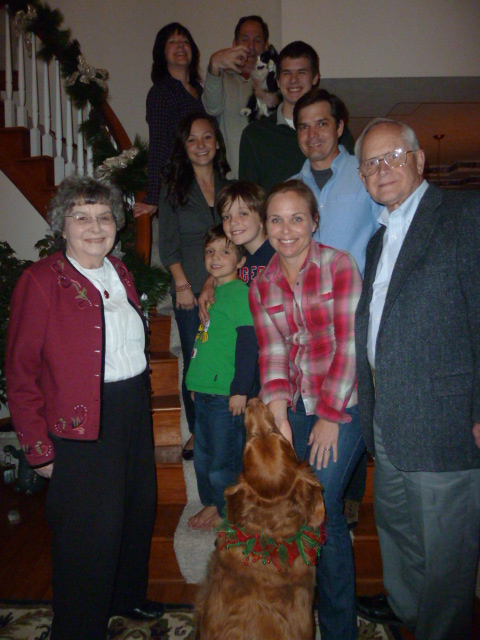 Whilst we were out and about at night we enjoyed looking at the local Christmas lights in the Strongsville, Ohio area.  This street puts on a particularly good show.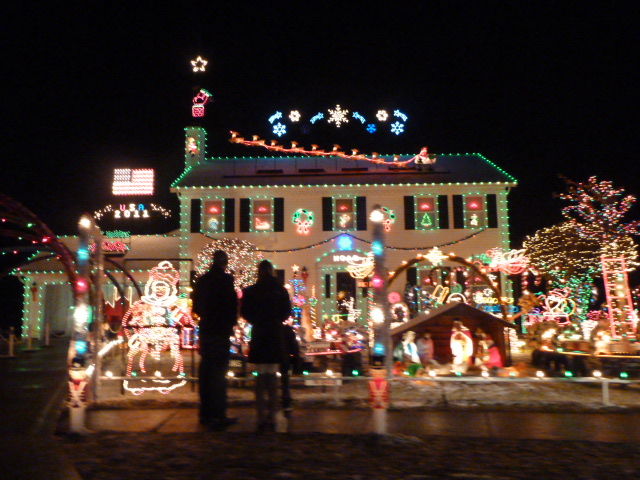 We (me) had a lot of Christmas shopping to do and to be honest, it wasn't all that easy or that much fun when I had such a limited time to achieve miracles!  But, everything was accomplished and all was a success.
My high school American history teacher, Karen, and her husband Curt, hosted us for an outing to Hinckley, Ohio to a wonderful nature reserve that was formed millions of years ago.  The area was once an ancient ocean.  Today it is a great place for a hike and the boys really enjoyed exploring.  They had a great time trying to knock icicles off the rock walls by throwing rocks and sticks – they weren't very successfully and I think the icicles mostly fell by themselves.  We returned to their home for lunch and enjoyed a warm stew and delicious ice cream and Christmas cookies.
After some time in the north of Ohio we headed down to Cincinnati to stay with our friends the Hoffman Family.  Jeff and Crystal and their two munchkins Milena and Pierce have opened their doors to us for two weeks whilst we enjoy Christmas and New Year with them.  We had two fun days 'babysitting' the kids whilst Jeff and Crystal worked and had a gingerbread cookie baking and decorating session.  My friend Carrie and her son Wesly joined us for the fun.  I thought our cookie efforts were pretty good. That was until Crystal came home from work with a box of 21 different cookies baked by her colleague!
Our friend Crystal was part of the choir in their church's major Christmas production called 'Awaited'.  I say major because they put on 14 shows and give away 50,000 free tickets.  There is also extra seating each show for people that 'walk-in'.  It was an excellent performance and certainly got the spirit of Christmas flowing.  The kids loved the free hot chocolate and cookies served before the show.  Crystal's son Pierce really enjoyed the first few songs before falling asleep for the rest of the show!
The Hoffman Family are big Bronco fans so Jeff suggested we go watch the game at 'Buffalo Wild Wings' and enjoy lunch.  Sounded like a great idea so here we are!
In Cincinnati we have a fantastic recreation centre just down the road from us.  For $100 we joined for one month and can take the kids swimming, use the gym and attend as many gym classes as we want.  We have been there every day so far as it gets the kids out of the house being active; it is too wet and chilly outside for them to play for long.
Keep watch as I'll be writing all about our wonderful Christmas Eve and Christmas Day very soon.
Leave a comment