Jakarta – Day 3.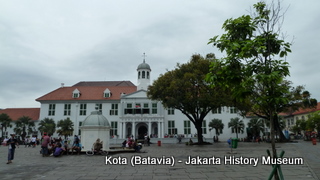 Our first big day out in Jakarta saw us head into Kota, the old town of Batavia.  Three of us drove in with Harsono in airconditioned comfort, whilst my cousin James, his son Marshall and Harris took a taxi.  Every Sunday one part of the road is closed to cyclists so there were different bikes and people to watch along the way. We saw big flash hotels, dingy little side stalls and everything inbetween. We counted numerous stray scraggy cats with chopped off tails, one dog and one monkey.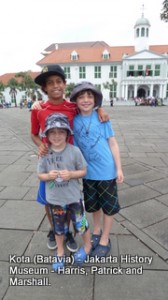 Our destination – Kota, the old town of Batavia.  This old town once had a moat and a defensive wall but today its focus is the cobblestone square, Taman Fatahillah, and some old buildings.  We headed towards the Jakarta History Museum in an old bell-towered hall built in 1627. The building was once used for administration, city law courts and also a dungeon. Today it is filled with beautiful ornate wooden furniture and memorabilia from the Dutch period.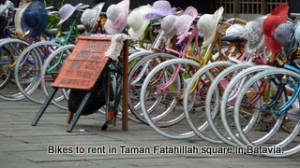 We found that we became the best attraction in Batavia for the morning with numerous groups of young students approaching us; particularly Steve, so that they could practice their English.  After awhile James would step in and kindly tell them in Indonesian that we had conversed enough.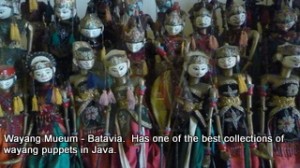 We toured the Wayang Museum which houses one of the best collections of wayang puppets in Java.  A shame we didn't get to see the shadow puppets etc in action. 
Finished our time in the square by having a milkshake in the Cafe Batavia.  This old building was constructed between 1805 and 1850 and the interior design is eclectic.  The upstairs Grand Salon is made entirely of Javanese teak wood and very enchanting.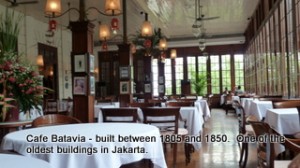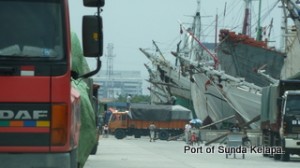 We made a short detour to the Sunda Kelapa, an active port since the 1100′s and the centre of the spice trade during the Dutch VOC period. Loading and unloading of the large wooden sailing vessels is done by manual labour acrosshuge wooden gangplanks. That was our day out in Jakarta.
No comments yet.
Leave a comment