Last days in Canada
We enjoyed a slow morning of packing and even ate lunch before leaving the condo since we didn't have to rush out; just as well since we really had a lot of organising to do.  Today we driving to Calgary to our airport hotel and the only major thing on our (my) agenda was to go to the Canadian Tire store so I could spend my vouchers; obviously since the shop is 'Canadian Tire' and not 'USA Tire'!
First stop in Calgary, 'Canadian Tire'.  I had set the GPS with the address that I'd found online and we went directly to the store to use our vouchers.  We had fun spending some free money.  Harris scored a mini remote controlled car and some Teck Deck mini skateboards whilst I bought some more practical things like Christmas cards and decorations; ziploc bags and another space bag for compressing bulky snow clothes; and some other miscellaneous items.  By the time we had finished shopping it was time to check into our motel.
The boys thought I was mother of the year when they spotted the hotel had a pool and … an indoor water slide.  We have seen many hotels that advertise having water slides but this was a first for us so far this journey.  Their first priority was going to the pool.  That water slide was cool.  I don't think I have ever seen anyone shoot out the end of a water slide that fast; I couldn't even get a decent photo. I had to put the camera onto video to capture the fun.
Next stop was dinner and since we had eaten one meal at Ricky's All Day Grill, when we were in Brooks and enjoyed our meals, we decided to head to the Ricky's that was just down the road.  We had another great meal; Steve chose the ribs that were to die for!  Then, back to the hotel, a little tv and more play with the new tiny remote controlled car and then to bed.   Tomorrow was going to be a big day.
5 am and 3 alarms rang to wake us up.  We were not taking any chances of missing our 8 am flight since we were all showering this morning; had breakfsat to eat; had a car to pack and drive to the airport around roadworks.  At the airport we had to offload the hire car so Steve dropped the boys and I off in the drop zone with all the bags and he took the car back.  We met up in the Air Canada line to check our bags in.  Everything was going smoothly.  We had to redistribute 5 pounds of weight from one bag to another; the lady was happy with 3 pounds moved.  Made it through security and this time the boys had to take off their new boots since they were setting off the beeping machines; apparently there is metal in the bottom of their shoes that likes to beep. 
Made it through to the other side and took our seat at our gate lounge.  A nice young guy beside us got chatting to us and when we were going through our Canadian change to get rid of it at Starbucks, for Steve to get a coffee, he gave Steve $5 and then went with him to buy coffee too.  Steve gave him our $3 in change to pay for the coffee and he gave it to Harris; so in the end Steve got free coffee and extra $.  I used that money to buy myself a Starbucks. What a nice guy and we never learnt his name. 
We had a great flight from Calgary to Toronto.  There were some issues with the inflight entertainment but as we always have our own entertainment with us the boys had plenty to do.  We also had a handy supply of food and drink with us because they only offer a drink, not even a packet of pretzels like they used to.  Plus, we have our own earbuds for the tv since you now have to pay for those on flights! 
We made it to Toronto safely and then had to negotiate customs and security to get to our next gate lounge for our flight to Orlando.  The guy at USA border security was being a real know-it-all-knob today; maybe he didn't get his Starbucks.  Thank God the next time we have to cross an international border it will be our own when we return to Australia.  That will be a joyous occasion!!
We flew into Orlando and grabbed all our gear. Steve went to pick up our hire car, which took forever so the boys and I counted the cars driving past to try to guess which one he would be.  We got to 50 cars and gave up counting.  Finally he arrived in a Jeep Liberty, not as big as our Ford Escape but still comfortable.  With our trusty GPS we headed to the Beaton's house to stay with Dot and Ed; the parents of our friend in Australia Debbie.  It was wonderful to arrive at their house and have a home cooked meal waiting for us.  We enjoyed biscuits, meatloaf, potato and vegies – delicious, and I didn't have to cook – thanks.  We got ourselves settled into our 'new' rooms and finally at 11pm Florida time (9pm Calgary time).  What a big day but the next two days were to be even bigger !!!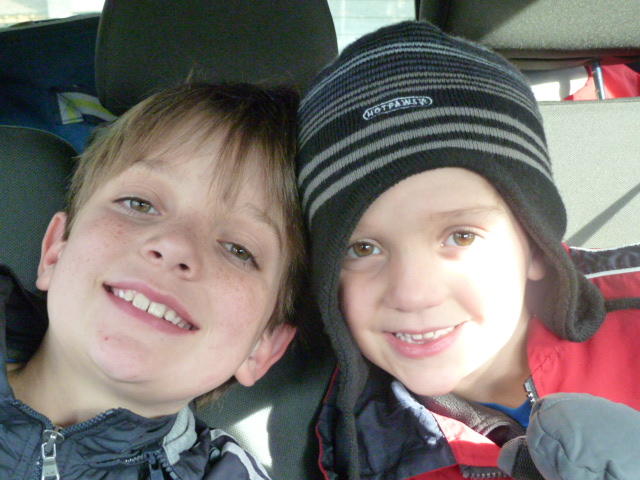 Leave a comment