Many days in Hanoi, Vietnam
Our journey to Hanoi got off to a very slow start.  The weather in Hue was so foggy and probably smoggy too, that the plane arriving from down south had to divert to Danang before landing in Hue before we could finally board to go to Hanoi.  We sat in the Hue airport for 2 extra hours. iPods kept the boys entertained whilst waiting. Steve and I read and used the wifi access.
Our flight to Hanoi was a little bumpy but we arrived safe and sound and got a taxi to our hotel.  We had a hotel booked in the old quarter.  Someone had told me that Hanoi felt more like Vietnam than HCMC and I think they are right.  The streets are much busier, narrow, full of people, motorbikes, buses, cars, pushbikes, cyclos, ladies selling things and so on.  In short they are truly chaotic! After a total of 8 nights in Hanoi I can liken the city to a hyperactive two year old on Coca-Cola!  We had no trouble crossing the streets as veterans of Asian traffic but for those tourists that were landing straight into Hanoi it would certainly have been a challenge and a shock.
We walked the streets of Hanoi during our time in the city to discover shops, food and sights to see. Most importantly we had to extend our visa for Vietnam or we would have to leave the country just 4 days after arriving in Hanoi.  Our hotel became our agent for organising our visa extension and to be honest I was a little anxious about whether we would get the extension or not since we had no way of knowing.  We were in limbo and I wondered whether I should plan to fly out on the 22ndto somewhere random or to think the best and assume we had a visa extension. We chose to assume we had a visa extension and I went andspent 2 hours with a local travel agency, Asiana Travel Mate, and organised the next 2 weeks of activities in Vietnam.
When I walked away from the agent we had a trip to Halong Bay booked; a train journey to Sapa and a couple of nights in Tam Coc and Cuc Phuong National Park organised with a few extra nights in Hanoi in between these mini-trips. We learnt at the 11thhour that we did in fact have a visa extension – phew, so the $2000 worth of travel that I had just booked wasn't for nothing!
Hanoi has a few big name attractions like the Ho Chi Minh Musoleum and Museum – which we did on a day the museloeum was actually closed and the museum probably rates as one of the most boring in the world (and not just to children!)  We don't think Ho Chi Minhis actually dead anyway.  We are sure the old guy, with the long thin grey beard, we spotted walking down the street one day was him!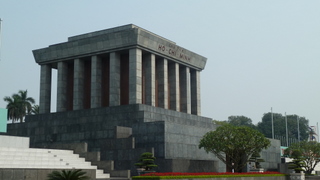 We went to the Temple of Literature and Museum of Ethnology which were both worthwhile attractions and took about 1 hour and 3 hours respectively to tour around – that is with two active boys.  If you went without children you would enjoy them at leisure!  We walked to the Temple of Literature from the Old Quarter – a bit of a hike but not impossible.  We got a taxi to the Museum.  No need to join a tour in Hanoi to see these things because they really are easy to get to by yourself.
The boys thought the naked people around one of the buildings was quite funny – they are 5 and 9 year old boys after all … but the young Vietnamese girls at the museum couldn't stop giggling and taking photos!
The boys would probably rate the outings to the movie theatre as one of their favourite places in Hanoi.  We found the Vincom Centre andtheir theatre after a long walk.  Rewarded ourselves with the movie 'Rio' and bought 3 tickets and got one free; cost us about $9 Australian. Later we returned to the cinema to see 'Hop', since it was getting close to Easter.  Steve chose to see  'The Fighter' instead.
During our days in Hanoi we also played hacky-sack in a local park; watched elderly women hit a shuttlecock back andforth with great precision; had our laundry done twice; found the toy street and invested in a couple of extra Pokemon for the boys.   
One day Harris and I headed into the markets on mission for above mentioned Converse sneakers. He had been wanting the shoes for some time and they were going to be cheaper here than anywhere else.  We asked a few vendors for prices; tried some on so we knew the size and style we were after and returned to shop where the young girl had quoted us 180,000 VND ($9).  Other prices quoted were 350,000 VND and even 500,000 VND – we just walked away at those prices.  So Harris is now the proud owner of navy blue Converse sneakers.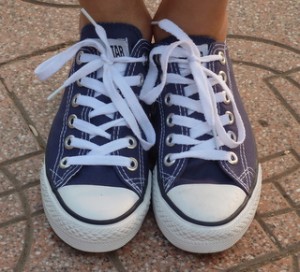 Highlands Coffee became our favourite spot overlooking the lake.  It was a pleasant place above the road noise and craziness to escape for the boys to catch up on homework; read a free newspaper and use the wifi. The drinks were a little pricey but worth the extra VND.  Also a little chocolate icecream or cake as a reward was a great motivating factor to do happy school work!
Another favourite place was 'New Day Restaurant' in Ma May Street.  The hotel had recommended it to us and it appeared that probably a few hotels recommended it to their western clients.  Considering that, it was actually good value; had the best duck in orange sauce and had a quiet room upstairs to get away from the crowds.  The upstairs room you could liken to a jail room with low tables where you sat on the floor. Good for kids because the food got into their mouths easier!  We ate here many times and also enjoyed the grilled aubergine, mushroom and tofu claypot and a great Long Island Iced Tea!
Our hotel was the Thaison 2 Hotel (or Sunshine Hotel). We spent all our 8 nights here whilst in Hanoi between our other scheduled side trips; it served its purpose as a base but I was glad to see the back of their dismal breakfast; which was actually it's best on our last day – pays to eat early. The room was comfortable enough with 2 big beds, a really good hot shower and tv.
Overall 8 days was definitely enough time in this big bustling city and I inparticular was keen to fly out to Hong Kong for … believe it or not, a slower pace!
No comments yet.
Leave a comment