My birthday in London
I woke to the sound of my phone ringing.  We missed the call but it was my twin sister calling to wish me a happy birthday (and vice versa).  I got up so I could get the computer to Skype her and managed to catch her inbetween juggling her job and kids.  Happy Birthday!  The boys gave me a card and Patrick informed me that Dad (Steve) forgot the chocolates!  I set out for a run in Regent's Park, just down the road and returned to get ready for a big day out in London.
We set off to find the Natural History Museum firstly and had a great time discovering the dinosaurs and the 'Coccoon'.  The 'Coccoon' was a 8 story pod that featured scientists and their work and had plenty of interactive computer 'games' for kids to use.  The boys of course were more than impressed. 
After walking around for a couple of hours we needed lunch so set off to find a local supermarket.  We grabbed a selection of things, and some Thornton's chocolate for me, and set off to find a place to eat our picnic.  First stop on the map turned out to be a private garden so we weren't able to get in so we headed back to the museum to sit in their garden.  It was extremely windy, so much so that it was blowing the salad off my fork, so we changed our seating for  a slightly less windy spot.  The boys enjoyed chasing leaves across the grass.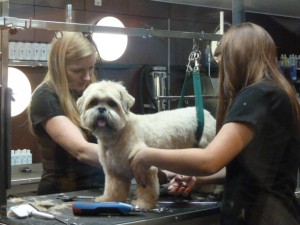 After the museum we headed for Harrod's as it wasn't too far down the road.  After finding a small Christmas deocration for my collection we headed for the toy department and the pets department.  The pets were amusing but after much deliberation we decided not to buy a kitten for 1000 pounds or a chihuahua puppy for 2,200 pounds! I'm not kidding, that was the price tag.  We also got to see a dog getting pampered and primped in the dog salon; he didn't look too fussed to see so many people looking at him; but I do think he smiled when he saw my camera!
We were exhausted after all this walking but we had a couple more places to go.  Steve really wanted to go to Trafalgar Square and then we were headed to the  London Eye to see the sunset.  We made it to both places but it required a bit of transport negotiation.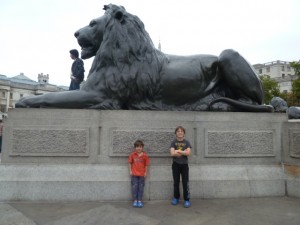 The London Eye was really quiet when we arrived and we walked straight into our pod.  The timing was perfect as it was still daylight when we went up and during the ride the city lights came on and the sun started to set. Thanks guys – what a great birthday treat!  As we were all exhausted we decided to get a few groceries and return to the hostel for some quick food rather than dining out.  The Pimms, pate and fresh bread went down well!
No comments yet.
Leave a comment