Phu Quoc Island Part Two
We started with 4 nights on the island and extended this with another 2 nights as we were enjoying the relaxed pace and it was cheaper to fly off the island on a Tuesday rather than the weekend!  Most days began the same way breakfast at 'Oasis' down the road from our accommodation and then a walk down to the beach for a swim.  Baguettes are as readily available here as they are in Cambodia so the boys enjoyed these for breakfast most days.  Steve and I would have eggs on toast. 'Oasis' makes the best coffee shake for 30,000 VND ($1.50) so I have enjoyed a regular dose of kid's coffee.
The beach is clean, quiet and has a good amount of sea life including sea stars, fish, hermit crabs and a few jellyfish along the way. Our favourite spot is just a short walk along from where we enter the beach and has free beach chairs where I am sitting right now to write this post.  Great opportunity to watch the kids swim and Geronimo into the water whilst reading the Lonely Planet guide to Vietnam to get an idea of where we are heading next! When we know we will fill you in! Have also met some other travellers and asked their advice along the way of places to go and accommodation.  Met a couple who are living in Ho Chi Minh City with their toddler Seth who have given us some great tips on tours etc.
Our routine after a morning swim is to returned to our room to wash off sand and then lunch down the street. Our accommodation has a pool table, very common in most places. Harris and Patrick often play their version of pool then Steve and I will have a game. In-between shots we watch the pet scorpion on the bench to see what it eats next!
Homework gets done at a restaurant table somewhere whilst waiting for an icecream sundae reward 30,000 VND.  Amazing how motivating an icecream sundae can be to ensure homework is done well and with a good attitude!  Buddy Icecream is the place to go with free wifi and a good atmosphere. We have seen the same people there day after day!
In Duong Dong we walked across the rickety old bridge to the central market and then walked and walked and walked until we were thoroughly lost in the back streets of Ward 4.  The locals were surprised to see us in their neighbourhood but very friendly and would push their children at of the houses to say hello to our children!  Finally a lady with good English asked us if we wanted help – yes! So she pointed us in the right direction and two teenage girls with their bicycles led us back to the bridge and all the way to Buddy Icecream. Really nice of them and they didn't expect money which was even nicer.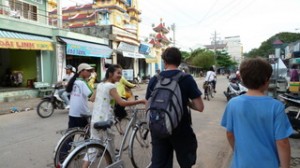 Whilst in Duong Dong that same day we stayed on to eat dinner at the Night Market.  Steve chose the prawns in tamarind sauce and then found the next morning he would live to regret that choice with another bout of food poisoning. Took him 2 days to recover.
I really wanted to see a pearl farm and a fish sauce factory whilst in Phu Quoc so rather than going on an organised tour we got a taxi there ourselves. The pearl factory was out of town, across a very dodgy bridge and dirt road all the way and when we got there … well there was really no point in going because the Australian fellow who owns it seemed quite inconvenienced that we were there and because I wasn't going to buy a $300 pearl he didn't want to give us the time of day. So, anyway off into town to the fish sauce factory where we got a more welcome reception and were offered green mango to try with the seasoned pepper, salt and chilli that we developed a taste for in Cambodia. It was so good that I happily paid 20,000 VND ($1) for a small container of it. We walked ourselves past the huge barrels filled with fish sauce and said hello to the ladies washing the green fish sauce bottles. We saw and smelt the fish sauce factory so off to Buddy Icecream again that day for some wifi.
We ended up booking one day tour with John's Tours. $17 per person to fish and snorkel and visit Sao Beach (didn't pay for Patrick). Well … there are tours and then there are tours. You never quite know what you are going to get for your money here and when they say a guide it means someone who can speak some English but chooses not to speak it very often. You get on a bus, a boat and all the way out near an island before they say anything at all! Food was ok, drinks were extra, some food was also extra, guide was dismal, other travellers nice to meet, snorkelling equipment crappy and my lifejacket popped off in the water whilst trying to snorkel and hang on to a kid; food hygiene yick as I watched him cut up the omelette with a cigarette in one hand; overall, I wouldn't bother again. Get yourself a snorkel at the local shop for 100,000 VND and walk off the beach for a more relaxed experience and eat whereever you like for us much as you want to pay. Hire a taxi or a motorbike and get to the other end of the island yourself if you so desire but so far Long Beach where we are is much nicer, cleaner and more pleasant. Live and learn.
We have eaten some great food so far in Vietnam and of course the real bonus for me is that I don't have to prepare, cook and clean up!  When Steve felt like eating again we went to Ganesh Indian Restaurant. Man what a spread!  We walked away full, took leftovers with us and vowed to return for our last dinner on the island (we had lunch instead). Great value meal and drinks for $26 Australian. Our last Indian meal in Toowoomba cost us $45 and that was 2 small main dishes, enough rice to feed a gnat and water only – we all went home hungry and I vowed never to eat Indian in Toowoomba again at that price.
Our last day in Phu Quoc was spent enjoying coffee shakes, the beach, Buddy Icecream, Ganesh Indian, playing pool and just chilling out. We have thoroughly enjoyed our 6 nights here and hope that our mostly good experiences of Vietnam continue. We are looking forward to the next month in Vietnam. Every country is a new adventure. Hard to believe that we have seen and done so many amazing things just in the last 8 weeks and that we still have 2 ½ more months in Asia, then 4 months in UK/Europe and then the finale – USA and Canada for Halloween, Thanksgiving, Christmas and New Year!  So many experiences, places and people to look forward to.
No comments yet.
Leave a comment