UK to Sweden Trek Day 1, Croydon to Dover then to Amersfoort!
How to get to Sweden from the UK? – first you book a ferry across the English Channel.  This is not an easy task because like everything it requires research.  There are numerous ferry companies departing from numerous locations in England and arriving in a multitude of European ports.  Prices  vary greatly as do the length of the journeys.  The longer the boat journey the closer we would land to Sweden and thus less driving time to complete our journey; but a much more expensive ferry ride as you pay to sleep in a cabin on an overnight ferry.  The cheaper option is just to drive to Dover and stay overnight, then catch a ferry to Calais.  The cost of the ferry is just 35 pounds.  This option then would involve 11 hours of driving to get to Sweden and a couple of nights accommodation. 
The Dover to Calais ferry and drive to Sweden option was the one we chose.  We arrived in Dover and finally found our hotel, the Premier Inn Dover East, which was a little further out of town than I had anticipated.  Getting to our hotel was an adventure in itself. We missed the turn off for the flyover which left only one way – to the ferry docks.  There was no turning around so we ahead without any idea what would happen.  We asked the first men we saw what we needed to do. We had to drive to a booth;, tell the man we were lost and ask him for an owl; follow the owl signs out of the docks and exit the docks. When I say 'owl' I mean he would give us a pass in the shape of an owl which indicates that we were allowed to exit the docks.  Finally we made it out of the docks feeling quite silly, but we managed to get a good look at where we needed to be the following morning!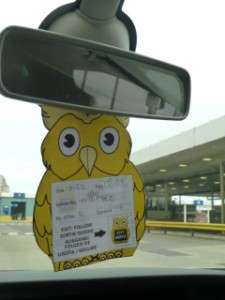 Once checked into our hotel we needed to find food and Steve had thoughts of fish and chips.  We tried the restaurant next to the hotel but they weren't going to give us 5 minutes grace on their dinner specials so we ended up driving the streets of Dover in the evening trying to find somewhere to eat.  The local Morrisons supermarket has a cafe but again we missed out on their dinner hour by minutes. By now we were tired and had all had enough and had driven most of Dover and cared to see no more. We headed to the other Premier Inn Marine Court, which I think is better located, and dined in their restaurant.  It wasn't a cheap meal but it was certainly a quiet relaxing setting, good food and nice wine plus they have activity booklets for the kids.
Next day was ferry day.  We got up early so we could be there ½ hour before our 0810 hour ferry.  We gave our booking number and were given a piece of paper for the car and a lane number. We lined up in our lane and Steve attempted to fit the car with the headlight dimmers that right hand drive cars need when driving in Europe.  Finally we were allowed to drive onto the ferry and park our car.  We headed upstairs to the family lounge; used their free wifi; drank coffee; exchanged some pounds for Euros; watched kids play and enjoyed the ride to Calais.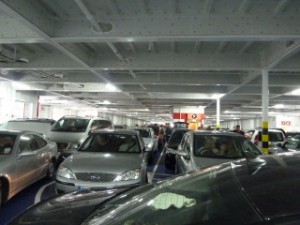 It was so exciting to land in France!  The first time the four of us had set foot in Europe!  We had a plan to drive to Sweden and to get as far as we could in a day.  We ended up on a small 25 mile detour when we took a wrong exit. Yes, we do have a GPS but anyone who has one will agree that they are not always so easy to follow. Whilst it was a lovely detour into the French countryside it didn't get us closer to Sweden. Back on track and off we went. We didn't drive for long and we were into Belgium. We found a small town for lunch and the bakery made us fresh ham and salad sandwiches – yum!
Back on the road and the rain was becoming heavier and heavier. We later learnt that we drove through what they call Code 5 rain, the heaviest rain that the weather reporters predict!  No wonder the traffic was slow and congested and at times we had to put our hazard lights on to indicate how dangerous the driving was. It didn't help either that twice our windscreen wipers became stuck to each other somehow and we had to pull over to untangle them!  As we had to plan … we had no accommodation booked for the night!  This was starting to become a concern as it became evening and the chance of rain was high.  We made it to Amersfoort, Belgium and begun our search for a room.  I nearly died when I was quoted 170 Euros!  What would we do?  We followed a sign to another hotel who wanted 150 Euros, which was still too much. The hotel girl suggested that 2 door away was a campsite!  Yippee. We drove there to find that it was undergoing renovation; but the lady took pity on me and no doubt liked the thought of a quick 45 Euros and let us stay in one of the cabins which was officially fenced off.
The cabin was warm, cosy, comfortable and the right price.  The internet cafe had quick broadband and the showers were hot.  Thanks King's Palace! We drove downtown Amersfoort to find Domino's Pizza and the Plus Supermarket to stock up for dinner, lunch and breakfast.  We took our food back to the cabin because it had a small table and chairs to sit at. Perfect.  Our first day on the road saw us catch our first ferry and we travelled from UK to France to Belgium; driving about 220 miles. We were all exhausted and knew we had another big day of driving the next day.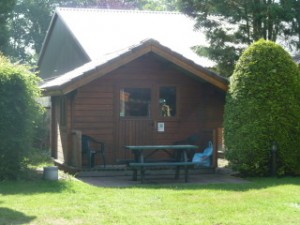 No comments yet.
Leave a comment