UK to Sweden Trek, Day 2, Amersfoort to Flensburg
Our second day of driving in Europe began by entering Kopenhaven (Cophenhagen) into the GPS and heading in that direction.  Again we had no real idea of where we were going; what we would see or where we would stop.  We successfully followed the highway from Belgium into Germany and quickly noticed how many P signs there were for parking along the highway for rest stops.  Many of the stops had bathrooms and many were complete service centres.  We found one rest stop and had our own lunch at table. It was quite an exposed spot so the wind chill was pretty cool.  Steve managed to use our little cooker to boil water and make a coffee!
Back on the road and the boys entertained themselves with books, iPods and some homework along the way.  I spent my time once again with my head in the guidebooks and with one eye on the GPS so we knew what was up next.  We were becoming really tired and needed a rest and think about our plans for the night so we stopped at a 'Marche' road stop. This was a really nice roadhouse with good food; seating and petrol.  The most impressive thing for the boys was the toilets!  You had to pay 50 Euro cents for the priviledge of using the loo and then watching the automatic toilet seat cleaner!  We have seen many a loo in our travels but this was hilarious.  The gadget actually spins the seat you were just sitting on and at the same time uses an enclosed cleaning sponge thing to clean down the seat.  Well worth the price to pee just to see that!
Wifi  – the other must have when travelling and it comes at a price in Europe. The centre was a hotspot for one of the short term access companies so for 5 Euro I could have one hour of internet.  I was desperate to find us somewhere to sleep since my 6 phone calls to YHAs went to message bank or were just not answered.  I tried the camping websites but it was too difficult given I had one hour to find a room. I went to good old www.booking.com and found a room that offered free parking (a must with a car), free wifi and breakfast was a bonus … the cost 150 Euros!  Bugger. Now I am really glad that we have a tent because these accommodation prices are making me choke!
We only had to drive about 110 kms to Flensburg; a city that borders Denmark.  When we arrived we were pleasantly surprised to see it was a port city for sailing boats and very attractive.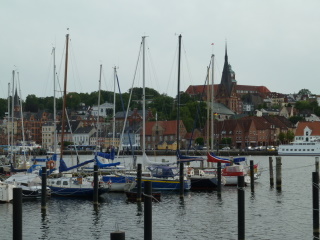 We checked into our hotel and drove downtown to the parking lot. The boys went scooting along the harbour  whilst I prepared our dinner from my kitchen; the back of the Renault Scenic.  We ate a cheap home (car) cooked meal of rice with meat and tomato spaghetti sauce. After dinner we went for a walk along the harbour; found a playground for the boys; watched university students play 'Viking Chess' a Swedish game of knocking over wooden blocks with wooden dowels; found the local Flensburger beer and a McDonalds for 1 Euro icecream sundaes.  Back to the hotel to bed; another day of driving over and more to come.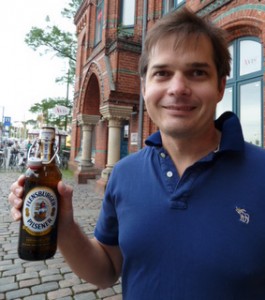 Leave a comment