UK to Sweden Trek, Day 3, Flensburg to Cophenhagen
We started the day with a German breakfast of eggs, bacon and pumpernickel bread in our Flensburg hotel. The kids enjoyed the pastries and hot chocolate!  We got the wifi working finally and I managed to book us a YHA for the night when we arrive in Cophenhagen.  Also called my best Swedish friend Kinney to chat about our upcoming arrival – the first time we had spoken in 18 years! 
We headed out of Flensburg and diverted briefly to a small village called Harrislee; just because my son is called Harris.  After that uneventful detour we headed onto the highway to Cophenhagen.  We decided not to detour to Vjele to visit my old friend Gitte since 2 of her 3 children had a possibly contagious vomiting bug – we will visit in July.  We stopped in Odense for find lunch.  Not far off the highway was a massive complex of shops, a shopping mall and a large IKEA.  We headed into the 'Fatka' store and found orange juice, lunch meat and bread for lunch and some sort of salad spread and walked out 40 Euro poorer (divide by 5 for Australian prices!).  We were going to be eating on a tight budget in Scandinavia!  We found a larger supermarket called 'Kvitchly' and I purchased a few items with dinner in mind, plus some chocolate for Father's Day tomorrow.  I think we should have seriously thought ahead and stocked up on basic food items in the UK e.g. baked beans, tinned fruit, spaghetti etc so that we didn't have to pay big prices for them over here.  Know for next time.
Back on the road and we drove over the 2 large bridges that connect two large Danish islands with the mainland. The priviledge cost us no less than 220 Kr or AUD $44!  The view was lovely when we could see it through the torrential rain – it is following us? 
Gosh, as I wrote this it started raining again!  We are hoping to be able to camp in Sweden – hmm. Let's hope the weather improves because otherwise it will certainly make for some interesting web posts, 'Soaked in Sweden', 'Sopping wet in Sweden', 'Supersoaker Sweden', 'Saturated in Sweden', 'Sorry in Sweden!'
We made it to Cophenhagen and checked into the very large Danhostel that is only 10 minutes from the downtown area.  It has a great kids' playground.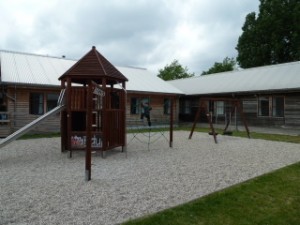 We had a family room with our own bathroom and there was a large shared kitchen and dining area.  We cooked dinner on a very slow cooktop to save some pennies and then headed into Cophenhagen for a drive without any real plans of what we would do.  We discovered the port area and by accident found ourselves at the Danish Royal Palace at 8pm for the changing of the guard.  We shared the experience with about 10 other people instead of the ridiculous crowds of thousands at Buckingham Palace. It was fun to watch! Back to the hostel for an early night.
Leave a comment