UK to Sweden Trek, Day 4, Cophenhagen to Horby, Sweden
We woke after a reasonable night's sleep in the Danmark Hostel in Cophenhagen and made ourselves breakfast.  The sun was shining and we thought we were headed for a great day but as soon as we got into the car, the rain started again.  Nevermind. This was to be our last day of driving to get to Sweden. 
Why Sweden?  If we were going to travel around the world there was no way I was coming as far as Europe and not visiting my best Swedish friend Kinney.  Kinney and I became friends in USA 18 years ago when we were both Rotary Exchange Students.  We were best friends for 6 months before she returned to Sweden. I can't remember if we wrote to each other when Kinney first returned to Sweden but  basically you could say we haven't heard or seen each other in 18 years – we are now twice the age we were when we met!  I was a wee bit nervous about meeting again after such a long absence from each other … but I shouldn't have worried!

For me the drive to Horby was a blur as I thought about meeting my friend.  We did drive over some big bridges; pass through lovely countryside; spot fields of baa baa black sheep, wildflowers and big wind turbines and pass through more rain.
Finally we arrived in the little village of Horby that I had heard about so many years ago. I truly couldn't believe that I was here and going to see my old friend. In fact, just writing this blog is enough to make me teary!  We stopped just outside the village so I could buy some flowers and I left with a beautiful lavendar plant for her. I called when we arrived because we couldn't find her flat.  Kinney came out to greet us and 18 years melted away.  The last time we had seen each other we left in tears and this time we greeted each other the same way. It was so amazing to see each other again and best of all … to meet each others partners and gorgeous kids.  We both have two lovely sons.
Philip, Harris, Patrick and Vilmer.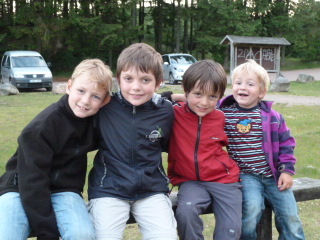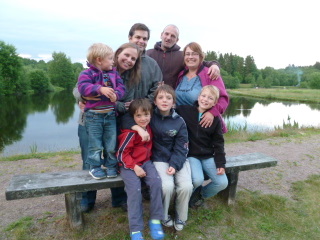 Our first day in Sweden was spent catching up with Kinney and meeting her family.  The boys hit it off wonderfully despite the language barrier.  Harris and Philip particularly enjoyed competing against each other in one Michael Jackson Wii dance off after another!  We had a fantastic day and the week just got better …
Leave a comment