Vero Beach, Florida
The drive from Tavernier to Vero Beach was about 3 ½ hours long and between the rain and the terrible drivers we were very glad to arrive at the Sea Spray Inn, a small neat-as-a-pin ma and pa style motel.  We were booked in for two nights so we could break up the journey back to Orlando; another of the many places I chose on a whim after some online research.  It turned out to be a great little stop, with good reviews, and the motel reminded me of the Port Aloha Motel in Port Macquarie, New South Wales; managed by our friends the Coopers.  It must have been built at a similar time and was simple but ticked all the boxes; self-catering kitchen, pool, cable tv and free wifi.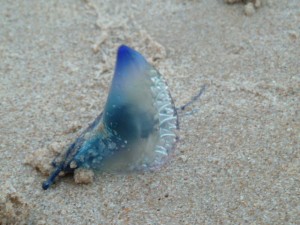 First job, walk down to the beach just a few hundred metres away.  It was about 5pm when we headed down to the beach for a walk and ended up spotting blue bottles (jelly-fish) all along the beach; some of them were quite big and still wiggling.  My attempts to return a large one to the sea were highly unsuccessful so I gave up; obviously wasn't meant to be – my apologies to the blue bottle.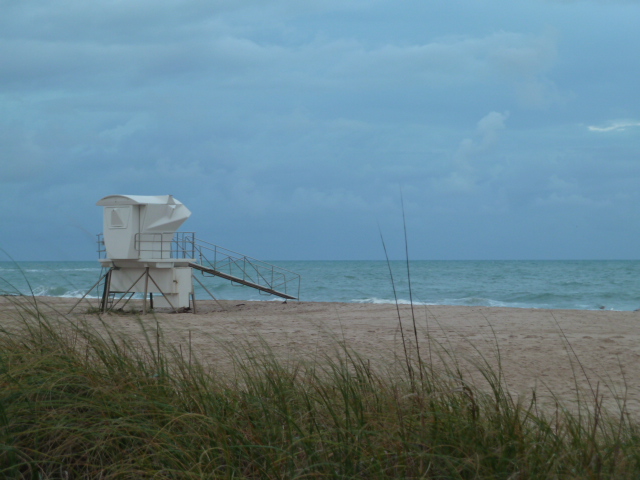 Back at the motel we sent the boys in for a quick swim whilst I cooked up some of our remaining groceries into a tuna and turnip greens pasta sauce and spaghetti – tasted much better than it reads! 
We had no great plans of anything to see or do in Vero Beach and the weather forecast wasn't great.  It rained overnight and the forecast predicted more rain the next day so we opted for some time at an outlet mall and the local shopping mall.  Considering we have been in North America for two months, this was the first outlet mall we have made it to and it wasn't really anything special.  The BOSE store was the most exciting thing and the sales guy was keen to show us the latest innovation; what the heck we had nothing better to do so we went along with it.  Ushered into the cinema room, we took a seat and we treated to all the hype of the 'sell' of the latest BOSE surround sound tv system.  I have to admit it was a great tv and we guessed the price before we even saw it, $5000.  If I had a spare $5000 I would probably consider it but I'm not in the market for a tv right now so I'll add it to my 'If I win the lottery' wish list! 
Following our BOSE experience we headed to the Indian River Mall where Harris and I went in one direction and Steve and Patrick in another.  Harris and I treated ourselves to lunch at TGI Friday's and used a voucher so we got one lunch free.  Harris tucked into his pork ribs with gusto and they were gone in minutes. We then enjoyed each other's company checking out the rest of the mall and met up with Steve and Patrick to go to some other shops in the afternoon.  I also got a couple of hours to shop by myself, whilst the boys returned to the motel for a swim.  All by myself, I managed to do a little Christmas shopping and window shopping so I could compile a list of items I would like to purchase before returning to Australia.
Steve and the boys picked me up and we headed to IHOP (International House of Pancakes) for dinner since we saw on their bill board that kids eat free every night between 4 and 10 pm – excellent. The meals were edible, although maybe not the healthiest of options; but we missed out on eating the holiday pancakes since we were full, so we might return another day so we can try their eggnog and/or gingerbread pancakes. Yum!
Back at the motel that night, the kids watched cable TV and I made use of the motel's offer of free long distance phone calls to call everyone in Ohio I could think of and my friend Sandy in North Dakota.  It was great having the chance to catch up with people over the phone and organise our movements for the next month as we have so many people we would love to see before we leave.  Even though I was in the USA last year and the year before, there are still people I didn't get to see, plus I really didn't have a great deal of time to spend with anyone.  This time we can visit more leisurely. I'm pretty sure I won't get back to the USA next October to make it four years in a row; so I really don't know when I'll get back to see everyone (except Sandy, as we have plans to meet in Hawaii for my 40th birthday in 2015 – bring it on!)
So our time in Vero Beach was short, involved very little beach time but was a nice enough little rest stop.  The accommodation was just right for us and the location was great if you wanted to spend every day at the beach.  Our next stop, Orlando, for one more night before flying to Ohio for the last leg of our journey around the world.
Leave a comment